By Emma Una
CALABAR – NIGERIA needs a young, energetic and intelligent president who can turn the situation in the country around by enthroning peace, progress and prosperity to stop the suffering and insecurity in the country.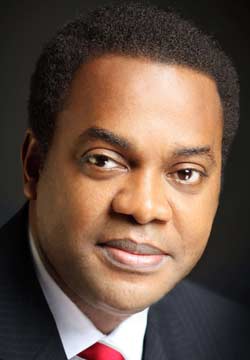 Making this declaration in Calabar on Wednesday, Princess Ayi Umoh, the president of a youth group Professional Youth Vanguard said the group is mobilising two million signatures to compel Mr Donald Duke, the former Cross River State governor to contest for the post of president in 2019 because he is capable of transforming the country within a short period.
'The problem with Nigeria today is leadership because those at the helm of affairs are old and incapable of generating good ideas that can address the problems of this country. That is why we are canvassing for Mr Donald Duke to contest for the post of President in 2019 to turn the situation around and stop the suffering". Princess Umoh said.
She said many countries in the world have seen the need to elect leaders who are young, vibrant and energetic to lead them and Nigeria cannot be an exception where the old brigade will continue to lead and not make any head way.
"Recently, Macron was elected President in France and Canada has a very young president but in Nigeria we have continuously produced leaders who are above sixty which should not be the case because youthfulness has a great advantage in leadership".
Miss Ayi said Duke is vested with intelligence and wisdom and can within a short time turn the situation in the country around and stop the country from continuing to slide the way it is doing currently with poverty, militancy, insurgency and armed robbery becoming the order of the day.
According to her, zoning should not be the criteria for the election of a leader but capability, excellence, and passion for the good of the country as witnessed when he became governor in 1999 and took Cross River from nowhere to become a state known all over the world.
"Mr Duke met an economy that was in the woods in Cross River and a state nobody would want to identify as his place of origin but within four years, he changed the state to become a tourists destination and he can do same for Nigeria. So zoning should not be used as a criteria but his ability ana passion in order to change things in the country ".
She said the group will aggressively carry out campaign to reach out to other parts of the country to mobilise support for Duke.