A team of inspectors from the Nigeria Football Federation has declared the Godswill Akpabio International Stadium, Uyo ready for next month's 2019 Africa Cup of Nations qualifying cracker between Nigeria and South Africa.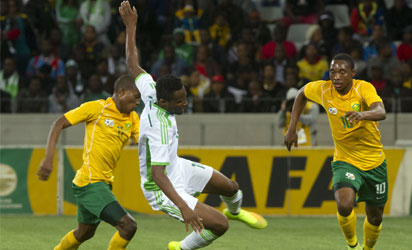 Led by the Chairman of NFF Technical and Development Committee, Barrister Chris Green, the team expressed delight with the state of the pitch during a final inspection carried out on Monday.
"We want to express our appreciation to the Akwa Ibom State Government and the people of the State for their co-operation in observing no activity on the pitch of the stadium. That has helped to retain the lush nature of the turf.
"The NFF is of the belief that this abstinence will be observed until after the match," said Green, who led a first inspection to the venue last month.
Also in the NFF delegation were NFF Executive Committee member, Ibrahim Musa Gusau and Deputy General Secretary, Dr. Emmanuel Ikpeme.
Green and his team were conducted round the arena by the Permanent Secretary, Akwa Ibom State Ministry of Youth and Sports, Mr. Aniedi Dickson, the Chairman of Akwa Ibom State Football Association, Mr. Emmanuel Iba and the Chairman of Akwa United Football Club/SSA to Governor on Sports, Mr. Paul Bassey.