SOUTH SOUTH: Buhari has brought us strangulating hardship
…But he's done well fighting corruption
By Emma Amaize, Sam Oyadongha, Jimitota Onoyume, Festus Ahon, Egufe Yafugborhi, Emma Una, Ike Uchechukwu, Chioma Onuegbu, Emma Ayungbe, Davies Iheamnachor, Emem Idio, Perez Brisibe and Ochuko Akuopha
An Ughelli based motorcyclist in Delta state, Efemena Egbe, said, "This government has nothing good to talk about, we keep hearing them announce on television that they have found millions of stolen money, yet no one knows what these monies are being used for. The EFCC has not been able to tell us who they arrested in connection with these monies. If you ask me, this Buhari government is a drama of the more you look, the less you see. We are being taken for a ride and the earlier we realize this, the better for us."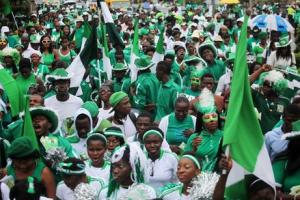 Frozen food seller, Mrs. Rosemary Emurotu, retorted, "We do not need a spiritualist to even tell a blind man in the country today that things are really difficult for everyone. Whether those in government feel it as we do is what I cannot tell because things are really tough right now."
President, Organization of Isoko Persons with Physical Disability, OIPPD, Comrade Simeon Ikuta said: "Buhari has done very well in his fight against corruption. The country was going through a lot of hardship because of the activities of those who have been looting the treasury. The President deserves kudos on recovery of stolen money from some of these politicians and using same to tackle some financial challenges in the country. If we all join hands with the President in this fight, the country will rejoice in the next two years."
Warri power generating set repairer, Allen Mukoro, said, "To look at it straight as it affects me, the biting inflation by Buhari has helped my business. Generators of all sizes and models have more than tripled in selling prices due to high forex rates. The advantage for me and my colleagues is that people are compelled to repair their old generators instead of getting new ones easily as it used to be. Although replacement parts are no less expensive to procure. With NEPA not friendly with power supply, the more generators repairs we get, the better for our families, but the times are terribly bad now".
A shoemaker at Asaba, Emma Chuckwudi, said: "Buhari's government has failed us. The average family in Asaba lives from hand to mouth, they can barely afford three square meals. For me, Buhari should resign because he does not have what it takes to fix the economy of the country.".
Tricycle rider, Hassan Mohammed, thinks likewise, saying: "President Mohammadu Buhari is Nigeria's greatest mistake. He has destroyed the economy of this country. We were living better when Dr. Goodluck Jonathan was President. I believe Allah is punishing us for our sins hence he (Allah) made Buhari to be President."
Cross River firewood seller, Mrs. Bassey Effiom Ballantine, "Although life has been difficult these two years, I believe things will change, it is a gradual process, and we will soon get there. I am not saying this because my business is booming, but frankly speaking, those with only one source of income are really suffering. Garri is now N100 per cup, while a basin is between N14, 000- N15, 000. It is the price we are paying but it will pass, he is not a magician, Rome was not built in a day. He should be given time and people should also pray that God will give him good health because he means well for Nigeria."
Akara (beans ball) seller, Mrs. Gladys Izuchukwu, who plies her trade at White House, Calabar, by Chamley, countered: "Buhari's government has failed. I used to live in Kaduna. Because of the crises over there we came back to Calabar to live with my in-law till we got our own place. But I must confess to you that this is the hardest season I have known in my entire 46 years on earth. What do you expect when the President is not well? He is not well, his output is low, and he is not capable of running Nigeria. I am a graduate of Business Administration but because of crises and bad leadership, I ended up here."
Mrs. Nfon Ibokette, who lives on Ekondo Street, Calabar, said: " Buhari's administration has brought untold hardship to many people, even salary earners who are not into any form of business cannot cope with the high prices of goods in the market now. I am also in catering services. I make cakes like almost every weekend, but my customer base has really gone down since this man came into office. He should just resign and allow the professor, his deputy, to take over."
To motor spare parts dealer, Ikechukwu Okoro, "What Nigeria needs now is the person like President Buhari. The recession and economic hardship may be biting now, but I am sure in the long run, naira will stabilize against the dollar and investment in agriculture like rice, cassava will bring in abundant food."
In Akwa Ibom, seamstress, EtieseUnwana Samuel, residing at No 5 AkpanUbong Street, Ikot Okubo community, said: "For two years now, I have not been able to pay my house rent, my business is not moving. I started it in 2012 with N150, 000. And between 2012 and 2015, I was able to make profit of N180, 000. But since last year, I cannot boast of N20, 000."
A food vendor in Uyo, who simply identified herself as Mma Udia, said: "Two years ago, I hardly made up to N3, 000.00 per day may be most people used to eat at home. Today, most people prefer to eat out because of the high cost of foodstuff. Even the cost of kerosene I think contributes to it. With just N200, you can get a piece of yam and beans from a food vendor like me. Today people are not going for quality. All they want is to have something in their stomach", she laughed.
Another petty trader at Ibom Plaza, Uyo, Mr. Chuks bemoaned bitterly: "In fact business has become so bad that I have resorted to providing only two square meals for my family. It was not like that before. I am glad that my children are gradually adapting to it. I pray God to help us get out of this hard condition. It is too much," he said.
In Rivers state, building materials seller, Emeka Ahamefula, bellowed: "I am disappointed in this Buhari government. Things have been so difficult since he came. I deal on building materials, precisely I sell plumbing things. As it stands we cannot predict the market. Today what you buy at this amount and plan to sell like this, by tomorrow price has risen because of the dollar."
Eyinda Charles told Saturday Vanguard: "I service air conditioners; this is not the best of times for my business. Customers that should patronize me are all grumbling that there is no money. Some people have not serviced their air conditioners at home now for close to a year. When you call them, they say there is no money.
SOUTH EAST: Buhari's only agenda is to decimate the Igbos
…The people are depressed and frustrated from hunger
By Emeka Mamah, Chidi Nkwopara, Anayo Okoli, Dennis Agbo & Peter Okutu
Mr Tony Okafor lawyer /journalist
For me, the Buhari administration has brought about accountability and fiscal discipline in most government establishments through the introduction of the Treasury Single Account, TSA. In this regard, one will score him a pass mark and I think it is good for the country. But in general, the people are suffering apparently because of lack of flow of liquidity and he needs to address this area rapidly. This is because we have noticed the highest rate of suicide in this administration, which is an indication of depression and frustration among the people.
Chinyere Oparaocha
Nigerians are really suffering untold hardship now as the cost of goods and services have hit the roof tops. In a bid to survive the extremely harsh economic environment, youths have embraced cultism, smuggling, prostitution, child trafficking and other serious crimes. The President had better done something fast to save us.
Kingsley Eze, self employed
"Before now, we all wanted change because we felt PDP was taking the people for granted, particularly on mismanagement of public funds. So based on that we opted for change but unfortunately the desired change is not what we are getting now. From my personal observation President Buhari is steadfast and an upright person in all ratifications but age is no more on his side.
Emeka Anosike, civil rights activist
What we have witnessed in the administration of President Buhari is indeed alarming. There are lots of abuses of court rulings and high rate of impunity among the security agencies. Nigerians are no longer safe. What can we actually say this government has achieved? There is even crisis amongst them since Buhari traveled out of the country for medical check up. There is a lot of restructuring that needed to be done for Nigeria to move forward and catch up with other nations of the world
Mr. Abia Onyike, social affairs analyst
President Muhammadu Buhari's administration has failed Nigerians in its totality. There is nothing to praise them for. They approached Nigerians for votes when they were not prepared to move the nation forward. Their only agenda is to decimate the Igbos. Buhari's government is against the Igbos and those who didn't vote him into power. The level of injustice in this country now is unbearable. Nothing is working in Nigeria.
Adejumo Waheed
Buhari has really failed Nigerians but I have a strong feeling that an equally very determined cabal is preventing him from achieving positive results. Again, his failing health has obviously not allowed him to efficiently serve Nigeria and Nigerians.
Udofia Alex Imo
Buhari's administration has no direction and no agenda as far as I am concerned. He says he is fighting corruption but the societal evil stares us all in the face everywhere and everyday. Today, there is hunger in the land and it is decimating the people in geometric proportion.
Mrs. Juliet Uduma, petty trader, Umuahia
My shop is almost empty, nobody is coming to buy things because workers are not paid their salaries For us petty traders, we are not interested in their politics, what concerns us is for workers to be paid so they can buy things from us".
Miss Oluchi Kalu, petrol attendant
It has not been easy, things are very difficult, the cost of everything in the market has gone up. With the little we are paid, we can hardly buy anything in the market, we are just managing. Even big men are affected because nobody, including the big men wants to leave the small change they used to leave for us again. They will wait and collect it. That shows things are rough for everybody.
Mr. Chimezie Iwuoha, unemployed graduate—"I have been on the streets for the past three years after my National Service, yet no luck and nobody is willing to assist you to start up little businesses. Everybody says there is no money. If those working and doing businesses are crying then you can imagine my case and the case of the millions of unemployed people roaming the streets. Personally, I will not entirely blame the Buhari Government but I expected them to focus on the economy while also fighting corruption which is the main reason we are going through this hellish road. We pray it gets better".
NORTH CENTRAL:
Politicians are the
only people with money
…Buhari means well for the country, but does he have the energy to carry on?
By Ben Agande, Suzan Edeh &
Marie-Therese Nanlong
Elizabeth Karr, journalist
Buhari's government has restored peace in the country, especially with the release of Chibok girls who have been held in captivity since the last administration in the country. A lot of achievements have been recorded, especially in the area of security and we pray for a lasting peace in the country. To a large extent, we can now sleep with our two eyes closed,"
Mu' azu Hardawa , Broadcaster
The anti-graft policy of Buhari administration has reduced cases of corruption that has eaten deep into the Nigerian economy, particularly during the previous administration. The war against corruption by the President Muhammad Buhari government has yielded positive results, especially with recent corruption probes by the EFCC. These probes will serve as deterrent to government officials who may exhibit such tendencies"
Mr Ernest Oshioke, teacher
I commend the government of President Buhari for bringing an end to insurgency, corruption and oil smuggling. I am also satisfied with the manner the present administration has empowered Nigerians to create job with establishment of new skill acquisition centres in the country.
Peter Aduma, businessman
Buhari has tried in the area of fighting corruption. He has arrested many corrupt people and many are being prosecuted. The whistle blowing policy has also helped this government. He has done a lot but he has many more to do. The economic situation in the country is very bad, people are hungry, there is no money in circulation. Politicians are the only people with money and it is just in few hands. Poverty is biting very hard in the land. He has to address that and quickly too.
Daniel Dauda, Commercial driver
I am not happy with this administration because so many people are going through hardship that you cannot even tell. He should change his leadership style in the remaining two years for the betterment of the society."
Moses Yohanna, farmer
This administration is not making impact on the people, go to markets, everything is costly. But in the remaining two years, he should look at the area of agriculture very well and ensure that fertilizers and other inputs are available to farmers so that people can find things easy."
Yusuf Umar, civil servant
"The past two years of Buhari's administration has been fruitful, his fight against corruption is commendable and he is trying to see that everybody gets salaries. Now he is sick but his Vice is trying to ensure that everything is okay. I am sure that President Buhari will do better in the remaining two years. But for these two years, he has been trying to put things together. Things are tough but they will be better. At least you have seen his achievements in the fight against corruption and the money recovered, we pray God should heal him so that he can come back and continue the good work."
Napoleon Idenala, legal practitioner
Buhari came into office with a lot of goodwill and unprecedented popularity but recession crept in and a lot of people became disillusioned, especially with the rising cost of food items and other goods.
But on the flip side of the coin, he has tried in the aspect of fighting corruption and to some extent security. President Buhari came into office and meant well for the country but the question is does he have the energy to carry on? Does he have qualified and committed assistants to carry out his reforms?
NORTH WEST:
We voted for change but APC has made things harder for the poor
…We can however sleep now with our eyes closed, no more bomb scare
By Tina Akannam
Hon Musa Sule, Lawmaker
Nigerians living in the northern part of the country and even Abuja can now sleep with their eye closed as the disturbing security situation in the country has been addressed to a reasonable extent. People can freely go to places, they are no longer frightened by bomb scare. On corruption, it is no longer business as usual as corruption has been reduced. And many public funds have been recovered by the federal government. Buhari has therefore done well in these two years.
Malam Auwalu Tsoho, trader
I am disappointed with this government. We voted for Buhari with the hope that he will make life better for poor people. But instead, the APC came and made things harder for the poor Nigerians. Things are too costly in the market and nobody is helping the poor. The only thing he did well to a certain extent is security because Boko Haram insurgents are still killing our soldiers in north east. My assessment is that Buhari's performance is disappointing.
SOUTH WEST:
Buhari is running a most divisive government which favours the north
…We are yet to experience any tangible change
By Juliet Ebirim, Aderonke Adeyeri and Adetutu Adesoji
Economically, this administration has failed – Ejike Kanife, Ogun State
While we could give him a pass mark for the fight against corruption especially the new whistle-blowing policy that has led to the recovery of several billions of different currencies, but one wonders if these monies are not being recovered for another approved looter to loot.
As for the economy, Buhari's government have failed as it is at a loss on what to do. Budgets still have more recurrent than capital expenditure, which means the government spends more in running itself than in running the nation. Socio-politically, Buhari is running a most divisive govt which clearly favours the north to the detriment of the south. He has however done excellently in security especially in fighting insurgency. The decapitation of Boko Haram and the release of Chibok girls are huge pluses for the administration.
We are yet to experience any tangible change – Onoja Sunday Ocholi, Lagos
We have not really seen any tangible change as promised during the campaign. The recession is biting hard. The economy is a total failure. Our budget is yet to be signed into law. Cost of living is high and we still depend on importation.
This administration is still in campaign mode – Austine Emeka Anieke, Lagos
For the past two years, this administration seem to still be in the campaign mode, bickering about what previous administrations did not do and still talking about what it plans to do. They are even telling us that President Buhari will still win in 2019. Two years is enough for the administration to begin to tell us its achievements.
President Buhari has performed below expectations – Titiloye Kehinde, Lagos
President Buhari can do better but so far he has done below par. Areas like power supply and communication are getting worse.
The president is in the right direction – Bayo-Tijani Bolaji Abdullahi, Lagos
Buhari's administration is taking a step in the right direction but has been marred by some inevitable crises that can be tackled with stern and focused leadership.
He has been able to curb insurgency- Grace Martinson, Lagos
In his two years administration, some looted funds have been recovered thereby reducing corruption. But Nigeria as a country is wallowing in recession. I think to an extent too, he has been able to curb insurgency.