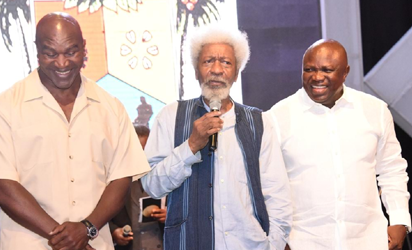 R-L: Lagos State Governor, Mr. Akinwunmi Ambode; Co-Chairman, Lagos @50 Committee, Prof. Wole Soyinka and former Heavyweight Boxing Champion, Evander Holyfield during the Rhumbles in Lagos, tagged; A Charity Boxing Match – Jagaban vs Holyfield to commemorate Lagos @50 at the Landmark Event Center, Victoria Island, Lagos, on Thursday, May 25, 2017
National Leader of the All Progressives Congress, APC, Bola Tinubu, Friday, failed to show up for the widely publicised boxing bout against former Heavyweight World Boxing Champion, Evander Holyfield to mark Lagos States 50th anniversary celebrations.
An official statement of apology delivered to the eagerly waiting crowd and the battle-ready ex-Champ by the Lagos state Governor, Mr. Akinwumi Ambode who represented Tinubu said that the APC national leader could not show up due to urgent "national assignment."
Governor Ambode announced Tinubu's absence at about 10.28pm.
Also, Tinubu's Media aide, Mr. Tunde Rahman corroborated Mr. Ambode's apology from Tinubu by saying that, "There was no embarrassment of any form there because Gov. Ambode stood in for him. Don't forget this was a charity event.
Asiwaju Tinubu had hosted Evander Holyfield in his Bourdillon, Ikoyi residence where he dressed him up like an Eyo Masquerade, which the former heavyweight champion said he would cherish all his life."
He said that "Asiwaju Tinubu prepared elaborately for the day. He had unusual work out and training sessions. But just then when he was set for the Landmark Event Centre for the highly-highly-anticipated bout, some national exigency emerged that he needed to attend to."
However, Noble laureate, Professor Wole Soyinka who was the designate referee for the bout had to, on a joking note, disqualify both Tinubu for being late and Holified for not undergoing a drug test before coming for the 'fight.'
According to Soyinka, "since Tinubu was late and the American did not perform a drug test, I have to disqualify both men."