…Constitutes panel to investigate killings
…Army arrests notorious mercenary, 12 others
By Henry Umoru
ABUJA— The Senate, yesterday, ordered the Inspector- General of Police, IGP, Ibrahim Idris, to, as a matter of urgency, arrest all criminal persons masquerading as herdsmen suspected in killings in communities, forests, and farmlands across the country.
The Senate specifically ordered the IGP to apprehend the killers of Mr. Solomon Ejoh, who was allegedly killed by herdsmen at Ovre-Abraka, Delta State, on April 24, 2017, while trying to rescue his mother from their grip.
As a follow-up to the orders, the Senate also resolved to constitute an ad-hoc committee to investigate killings by terrorist elements, who masquerade as herdsmen across Nigeria.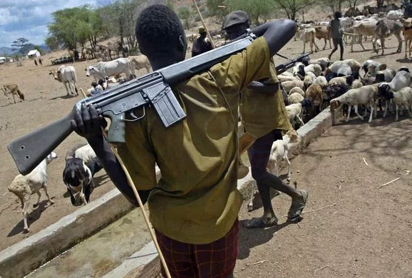 The Senate orders came upon a point of order raised during yesterday's plenary by Senator Ovie Omo-Agege (APC, Delta Central), as a matter of urgent public national importance.
The point of Order was entitled, "Need for urgent national security intervention to stop the gruesome killing of Urhobo and other Nigerians in Delta Central Senatorial District and other parts of the nation by terrorist elements masquerading as herdsmen in rural communities, forests and farms."
Deputy President of the Senate, Ike Ekweremadu, who presided at the session, said the Senate, as an institution, condemned in totality the killings and waste of lives and property.
"Senate condemns the act, human life is sacred. We call on government at all levels to wake up to their responsibilities. We also call on security agencies to do their work," Ekweremadu said.
The motion
Presenting his motion, yesterday, Omo-Agege noted that "historically, rural dwellers in Urhoboland and other parts of this country have always lived in peace and harmony with themselves and citizens from other parts of this beautiful country, including traditional herdsmen, who are never armed with sophisticated war weapons and who go about their herding activities peacefully."
Further, he expressed worry "that against the letters and spirit of our constitution and without regards for the sanctity of human life and any justification whatsoever, Urhobo and, indeed, other Nigerians, are being gruesomely and extra-judicially killed in rural communities, forests, and farms by terrorist elements and hardened criminals who are armed with sophisticated war weapons and who masquerade as herdsmen."
He urged the Senate to condemn "the recent brutal killing of a young, vibrant, and popular youth leader, Solomon Ejoh, by terrorist elements/hardened criminals operating under the cover of herdsmen at Ovre-Abraka in Ethiope East Local Government of Delta State."
He expressed worry that the killing of Ejoh had generated pervasive anger across the Niger Delta, bringing pressure on the leaders of the region.
Senator Omo-Agege observed that the alleged actions of the  herdsmen was a threat to national security and that the consistent oral assurance of the authorities had not brought any succour.
Against the background of the responsibility of the security agencies to the populace, he thus moved that:
Apprehend killers of Solomon Ejoh
lThe Senate directs the Inspector-General of Police (IGP) to, as a matter of urgent national security priority, arrest the killers of Mr. Solomon Ejoh and all terrorist elements, hardened criminals and armed killers masquerading as herdsmen in communities, forests, and farms in Delta Central and across the nation and bring them to justice according to law.
lThe Senate constitutes an ad-hoc committee to investigate all cases of killings by terrorist elements who are masquerading as herdsmen across Nigeria and the response of all national security agencies to these matters.
The motion was adopted by the Senate as moved by Senator Omo-Agege.
Army arrests notorious mercenary, 12 others
Meanwhile, troops of 93 Battalion, Takum, Taraba State, have arrested a mercenary and 12 other suspected criminals in different parts of the state, in a renewed efforts to checkmate farmers-herdsmen clashes, kidnappings and other sundry crimes in Taraba State and its environs.
Following the arrest, the 82 Division directed the handover of all the suspects to Taraba State Police Command.
Responding to the directive, the battalion handed over the suspects and the exhibits of one AK-47 rifle with 10 rounds of 7.62 mm special ammunition to the Commissioner of Police, Taraba State, between May 19 and 22, 2017, for further action.