By Anayo Okoli.
UMUAHIA-RESIDENTS of Umuahia, the Abia State capital and environs did not completely obey the sit-at-home order by IPOB/MASSOB as they moved about freely, some of them going about their businesses.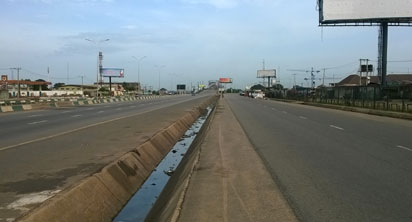 Vehicular movement was normal, some workers went to work and banks opened but were cautious as they attended to their customers from their side doors even though their main gates were thrown open.
Some shops on the streets were open but in some cases the owners did not fully display their wares as they monitor until later in the afternoon when they were sure of the situation.
Schools were however not open as parents were afraid to send their children and wards to school.
Police surveillance airplane intermittently hovered round the capital city while patrol vans also patrolled the capital city and environs to ensure that no breach of peace was committed.
However, it was observed that the number of tricycles on the road was small compared to the riotous number that used to be on Umuahia roads daily.
Assessing the general compliance, the leader of MASSOB, Comrade Uche Madu described it as "huge success".
"The huge success achieved on today's sit at home exercise is marvelous and glorious because Almighty God, Chukwu Okike Abiama divinely approved our program of commemorating the golden jubilee celebration of declaration of Biafra by General Chukwuemeka Odumegwu Ojukwu.
"The honour and pride go to the people of Biafra. The success achieved today is not a selfish pride for Mazi Nnamdi Kanu led IPOB or Comrade Uchenna Madu led MASSOB or any other group, it is an honour of the people of Biafra; it is an honour of the gallant and eloquent soldiers of Biafra and civilians that bravely laid down their lives for establishment of Republic of Biafra, it is an honour for Biafra school children, an honour to commercial cyclists, tricycles, buses and other vehicles operators, it is an honour to the cooperate firms/establishments that complied with the sit at home exercise.
"The huge success express evidence that the coming Biafra referendum shall be a walk over against Nigeria state. The success is also a direct confirmation that lights and darkness can never walk together. The huge success has further differentiated the acceptability and unacceptability of Ralph Uwazuruike led Biafra Independent Movement (BIM) and Nnamdi Kanu led IPOB/ Uchenna Madu led MASSOB.
"The huge success marks the end of the already deteriorated image of Ralph Uwazuruike and his BIM confused people who opposes the divine calls for the sit at home exercise. The huge success is an indication to the international community that Biafrans are ever willing to stay on their own.
"MASSOB is not against Nigeria existence, Biafra nation can as well exist as a sister nation with Nigeria like any other African country. As this exercise is the greatest of all civil disobedience applied in the struggle for Biafra actualization and restoration, the success has opened a new dimension to Biafran struggle, a new dimension anchored on nonviolence that will continuously paralyze Nigeria.
"I Comrade Uchenna Madu, the leader of MASSOB pledge my consistent and unshakable loyalty to the people of Biafra with a vow that any day I go back on Biafra actualization and restoration struggle, I shall die", Madu said.