…Order extended to 9 northern states, Abuja
…Hostility of Buhari govt to Igbo fuelling agitation — World Igbo Congress
ENUGU— THE Movement for the Actualization of Soverign State of Biafra, MASSOB, has said its planned sit-at-home method of Biafra Day celeberation is a test case to how its agitation for referendum would go.
The group said the success to compliance  of the directive would give signal to the world that Biafrans are in unity demanding self-determination.
It also called on all pro-Biafran agitators to comply with the sit-at-home order as part of civil disobedience, in line with the Biafra actualization programme.
MASSOB Director of Information, Samuel Edeson, also reiterated that the Ralph Uwazuruike-led Biafra Independent Movement, BIM, is not same as MASSOB and urged Uwazuruike to stop dropping MASSOB's name in his activities.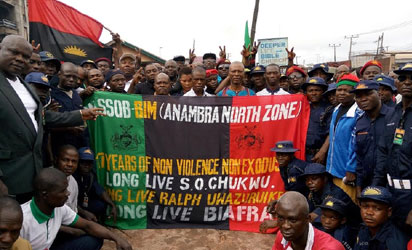 Edeson recalled that Uwazuruike, after his expulsion from MASSOB, went and formed BIM and wondered why he turned around to start associating MASSOB with his new group.
Edeson said: "MASSOB is calling on all Biafrans to support the sit-at-home, which is scheduled to hold May 30, 2017 in honour of General Odumegwu Ojukwu and all the Biafran soldiers who died during Nigeria-Biafra war of 1967-1970.
"By this sit-at-home, it will help us to plan conducting referendum in Biafran land. The observation of this sit-at-home is not for the interest of any particular group but for the interest of Biafrans.
"MASSOB/ IPOB are urging all schools, markets, transporters and companies in Biafran land to support it. Also, all Biafrans in diaspora should observe the sit-at-home order.
"It is important for us to make it clear that Nigerian security agents have planned to shoot at sight, anybody they see that day. To be on safe side, it's better we stay at home to avoid this blood suckers called Nigerian security agents. MASSOB  has grown above displaying flags on the streets.
"The relationship between MASSOB and IPOB is cordial because this is part of the agreement reached in the Ghana conference.
"No amount of threat from the security agents can stop us from pursuing the struggle for our freedom."
Order extended to 9 northern states, Abuja
Meanwhile, the Indigenous People of Biafra, IPOB,  yesterday announced the extension of its May 30  sit-at-home order to nine Northern states and Abuja.
The states include Benue, Plateau, Kaduna, Kano, Jigawa, Adamawa, Kogi, Nasarawa and Taraba, as well as the Federal Capital Territory, Abuja.
A statement by IPOB Media and Publicity Secretary, Comrade Emma Powerful, also included Ibadan, Benin, and Lagos as cities where the sit-at-home would take place.
Urging its members to strictly observe the order in all the mentioned areas, Powerful said  this year's remembrance day celebration would be unique and significant in every ramification.
He said: "We, the Indigenous People Of Biafra under the leadership and command structure of Mazi Nnamdi Kanu wish to declare once again that the 30th of May, 2017 Remembrance Day celebration and sit at home order issued to honour and remember our fallen heroes and heroines must hold.
"The sit at home order must be extended to other parts of Nigeria where Biafrans and supporters of Biafra have presence like Kano, Kaduna, Jos, Makurdi, Ibadan, Benin, Abuja, Lagos, Lokoja, Gigawa, Jalingo, Mubi, Yola and Lafia."
Buhari govt's hostility to Igbo fuelling Biafra agitation—WIC chair
Similarly, an alleged hostile posture of the administration of President Muhammadu Buhari has been identified as the reason for the increasing agitation for the Biafra Republic.
Chairman of World Igbo Congress, WIC, Mr. Joe Eto,  said in Awka, yesterday, that without even knowing it, Buhari's policy of non-inclusion of the Igbo as core part of his administration, as well as his insensitivity and treatment of Igbo as outcasts, were creating obvious management problems for Nigeria.
He said although Buhari's hostility to the Igbo was causing a lot of hardship in the Igbo-speaking states, thereby fuelling the demand for Biafra Republic, the entire nation was also not making significant progress in national agenda of the administration.
He said: "Biafra is not  ever going to die. Like every other denied agitation for self-determination, Biafra will at least  remain on the minds of those who seek self-determination.
"Inflicting suppressive and repressive policies on the Igbo in Nigeria will continue to trigger demand for self-rule. It is, therefore, imperative for the Nigerian government to have one Nigeria where every component of the nation is treated as equal partner."
World Igbo Summit
Eto explained that in its desire to contribute towards the alleviation of the suffering of the Igbo nation, the Diaspora Igbo have mapped out plans for improving the living standard of the people in various parts of Igbo land.
According to him, all the programmes of WIC for the development of Igbo land would be unfolded during this year's World Igbo Summit scheduled to take place in Enugu on Saturday, recalling that the decision to bring the summit home was taken during the 2016 New York Convention of WIC.
He explained that prominent Igbo sons and daughters, including governors, traditional rulers, leaders of Ohanaeze and Igbo leaders of thought were expected to attend the summit.
Eto said that life-time award would be presented to former Chief of General Staff, Commodore Ebitu Ukiwe (retd), Prof. Anya O. Anya,  Arthur Eze, among others.