By Ola Ajayi
IBadan—THE  embattled Iyaloja of Ibadanland, Chief Labake Lawal, who was removed by the Olubadan of Ibadan, Oba Saliu Adetunji, has dragged the monarch, the Olubadan-in-Council and the new Iyaloja, Chief Iswat Ameringun to an Oyo State High Court.
In a suit marked 1/406/2017 and filed by her counsel, Akinjide Sadiq and others, she is asking the court to declare as illegal the purported appointment and installation of the third defendant as Iyaloja of Ibadanland by the first and second defendants on Monday, March 20, 2017.
She further said the appointment and the installation of new Iyaloja is not only wrong, but also a violation of her right to natural justice.
She prayed the court to therefore, declare her opponent's appointment null and void and of no legal effect whatsoever.
In her application for interlocutory injunction, Chief Lawal also wants the court to "restrain the Olubadan of Ibadanland and Olubadan in Council from recognising Chief Ameringun as the Iyaloja."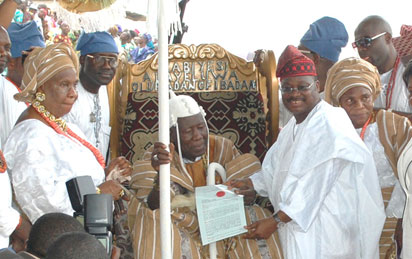 Also, the aggrieved woman who was appointed Iyaloja 11 years ago, by the former Olubadan, late Oba Yunusa Ogundipe, is asking the court to restrain the new Iyaloja from parading herself as such pending the determination of the suit.
While speaking with newsmen in Ibadan yesterday, Chief Lawal said since she had filed the case in court and also had her certificate in tact, it was improper for the media team of the monarch to say she should not parade herself as Iyaloja because the court has not yet decided the case.
The removal of Chief Lawal and installation of her successor have continued to generate heated controversy among market men and women with supporters speaking in favour of their preferred candidate.
It was also gathered that the issue has caused disaffection within the Olubadan-in-Council with majority of members of the council not aligning with the decision of the monarch.