By Evelyn Usman
The name Ekwurekwu, an Igbo name which means talkative, usually sends fear down the spines of traders at the Alaba International Market, along the Mile-Two-Badagry expressway, Lagos, owing to his alleged notoriety. He has an intimidating height which stands him out among his friends and a toned complexion complemented by a tattoo on his left arm.
Most traders pray against coming in contact with him as they leave for their shops each day because his visit had always left traders with bitter experiences.
Investigation by Crime Guard revealed that 24-year-old Ekwurekwu, an indigene of Anambra State, is a member of the Black Axe Confraternity and second in command at Alaba/Ojo axis.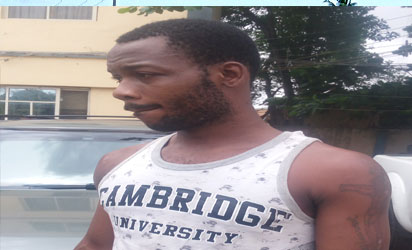 An end, however, came to his obnoxious activities following his arrest by policemen. During preliminary investigation, he gave his real name as Ebele Ndukwe.
In this interview, he opened up on how he started as a hustler at the market but ended up as a tyrant, whose orders must be obeyed without hesitation.
Hear him: "I dropped out of school in Junior Secondary School 1 after my father's demise because there was no money to further my education. I had done several menial jobs to eke out a living until I came to Alaba International Market as a hustler. From there I started forcefully collecting money from traders. I would lead members of my gang and storm any shop of our choice and order the owner to give us money. "
Asked how that was done, he replied, "my members were usually armed. Immediately traders see us coming, they would on their own volition give us money. We didn't make trouble with whoever gave us money. They know us at the market and nobody dared to hesitate, when we asked for money because they know the consequence. We don't burgle shops at night, we usually went when traders were in their shops between 4pm and 5pm.
"We usually got between N50,000 and N100,000 at the end of each operation. We would share it among the number of persons, who went for the operation. Thereafter, I would retire to a hotel in Ojo, where I usually relaxed with my girl friends," he said.
Attack on masquerade
His arrest was greeted with jubilation at the market as traders appealed to the police to ensure that justice took its course. Some of the allegations levelled against him included an attack on a masquerade at Alaba, an action that would have resulted in an ethnic crisis but for the swift intervention of the police and some stakeholders .
Ekwurekwu, however, denied having a hand in the attack on the masquerade. He said "my members attacked the masquerade, they shot him to test the potency of his charms whether bullets would penetrate into him or not.
According to him, "Marly shot at the masquerade. He only wanted to know if the bullet would penetrate or not. But to our surprise, the masquerade fell down and his followers fled."
Asked where they got the guns which they used for their operation, he said, "the guns were sold to us by some Hausa men. Aside using it to molest traders in order to collect money from them, I don' t use it to rob. Yes, I am a cultist but I don't burgle people's home. We are usually hired during election periods in the market to oppress opponents, at the end of which we get paid."
How he was arrested
"This is the first time I would be arrested by the Police. I was summoned by members of the task force at the electronic section of the market. On getting there, they said they had been hearing different stories about me and while they were still interrogating me, some policemen arrived and whisked me away. "I live at Igboleri, I am married with a child but my wife and child don't stay with me. My wife stays with her parents. She also does not know this dark side of me. She believes I am a hustler at Alaba International Market. I am using this medium to apologize to my wife and also to appeal to her to take care of our child until I return." The suspect according to the Commissioner of Police, Lagos State Police Command, Fatai Owoseni would be charged to court alongside other suspects arrested in the state.