By Onozure Dania
Lagos—The Lagos State government yesterday  told  a Lagos State High Court sitting at Tafa Balewa Square TBS, that the private waste operators of domestic and commercial wastes in Lagos State who are also known as Private Sector Participants, PSP operators, that their continued operation in the state is at their own expense.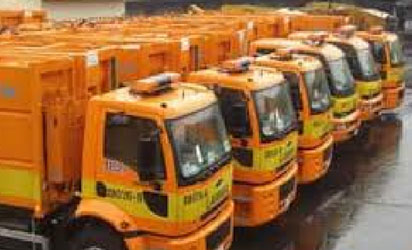 The counsel to the state government Olubukola Adesina said; "The fact that the waste managers are cleaning the state does not mean they have been employed as they are doing so at their own will."
Adsina said that the reason the operators brought the matter to court was to force the contract on the Lagos state government. "You can't foist a willing party on to a principal," she said.
She further stated that the operators have not been doing their job very well and diligently.  However Adegboruwa objected to the submission and urged the court to dismiss it and hold that the first to third defendants cannot approbate and reprobate at the same time by denying the existence of a contract and at the same time claiming that the operators were not diligent in the contract.
Earlier the counsel to the claimants Ebun-Olu Adegboruwa, had informed the court that the state had rebuffed the court's intervention for a resolution between both parties.
"The first to third defendants have indicated their unwillingness to settle," he said. After listening to the submission of counsel of both parties, Justice Oyekan Abdullahi adjourned the matter till June 22 for ruling. The claimants had dragged the Lagos state government to court to stop the government from displacing them or replacing them with new operators through the guise of reform.
In a suit filed on their behalf at a Lagos High Court by Ebun-Olu Adegboruwa, the PSP operators, urged the court to urgently uphold and protect their existing rights and benefits so that the government will not appoint new operators to replace them. The association, comprising over 350 PSP operators, asked the court to restrain any foreign operator, and their local agents, from taking over the collection, disposal and management of domestic solid waste in all areas of Lagos State.