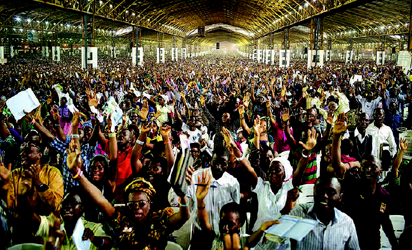 The Lagos State Chapter of the Christian Association of Nigeria (CAN) on Tuesday called for understanding of Lagosians on the removal of the presiding Chaplain of Chapel of Christ the Light Church, Lagos.
The Chairman of CAN, Lagos State Chapter, Apostle Alexander Bamgbola, briefed newsmen at the church on the sack of Ven. Femi Taiwo, who was removed on May 15 by the governing council of the church.
Bamgbola said that the issue should be regarded as that of an employer and employee relationship.
"As a result of the unfortunate misunderstanding of the public which has been fanned by erroneous publications in the print media and social media generally, we believe that C.A.N Lagos State, must make clarification and educate the public correctly on this matter having looked into the matter objectively," Bamgbola said.
He said that the State Government created a standing legal constitution for The Chapel of Christ The Light, which has guided the running of it over the years.
"By this Constitution, the chapel is run by a Governing Council which reports to the Ministry of Home Affairs. The Governing Council has the Constitutional responsibility and authority to recruit and terminate the two officers who run the Chapel of Light i.e the Presiding Chaplain and the Chaplain.
"With this clarification, it should be known by the generality of the public that these two officers who run the Chapel are strictly employees of the State Government. They are subject to terms and conditions of employment of the the State Government.
"Having investigated this matter carefully and objectively, C.A.N, Lagos State, wish to state today that the Governing Council that recruited Venerable Taiwo acted within its constitutional authority to terminate Venerable Femi Taiwo," he said.
Bamgbola said it was unfortunate that Mrs Bolanle Ambode, wife of the state governor was being accused in the media of being instrumental to the termination of the Presiding Chaplain because of one anointing service.
"We wish to state clearly here today, that this is far from the truth. Deaconess (Mrs) Bolanle Ambode is a true Woman of God, who fears God and lives a godly life and whom it has pleased God to raise to be First Lady in Lagos State at this time.
"This error of judgment is most unfortunate and unfair to Her Excellency, the entire Lagos Government and the Church in Lagos at large," he said.
Bamgbola urged the media to be objective in their reportage and desist from publishing and circulating erroneous publications.
"With this press conference, we ask that this matter be closed and be left to The Church in Lagos State to handle," he said.