By Dennis Agbo
Ohanaeze Ndigbo in Enugu state has warned that Ndigbo will not seat aloof to watch the deputy Senate President, Ike Ekweremadu, humiliated for unsubstantiated reason.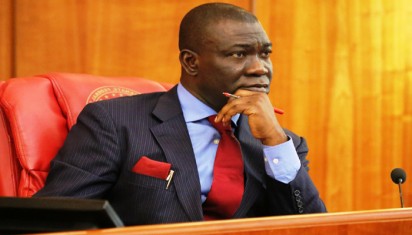 The apex Igbo body said it's warning is coming on the heels of the alarm raised by Ekweremadu that the federal government through the Economic and Financial Crimes Commission, EFCC, is planning to rope him in a phantom allegation.
Chairman of Enugu state chapter of Ohanaeze Ndigbo, Chief Alex Ogbonnia said  in statement, said that eventhoughthe EFCC has denied such plot, the group have reasons to believe that such plot is feasible going by the sequence of events that has taken place since June 2015.
Ogbonnia said: "The denial by the EFCC notwithstanding, we wish to warn, in the strongest terms possible, that the Enugu State Chapter of Ohanaeze Ndigbo will not sit idly by and watch our son being maligned; oppressed or ridiculed by the Presidency or the EFCC.
'We are not unmindful of the fact that this plot gained currency with Senator Ekweremadu's role in perfecting the bail conditions of Nnamdi Kanu, the leader of the Indigenous People of Biafra, IPoB, who was granted bail recently with stringent conditions.
"For the avoidance of doubt, Senator Ekweremadu did what he was supposed to do in the circumstance as a firm believer in the rule of law and justice.'"
Ogbonnia alleged that the Presidency has made  several moves to pull Senator Ekweremadu down and remove him from office especially after his emergence as the Deputy Senate President in the 8thSenate.
"Soon after his election as the Deputy Senate President, the Presidency accused him of forgery and eventually arraigned him before a judge in Abuja on trumped up charges of forgery.
"The Deputy Senate President was eventually discharged and acquitted of all the charges. Soon after this, hired assassins breached the convoy of the Senator with intent to assassinate him.
"Though this matter was officially reported to the security agencies as well as the Presidency, the matter was swept under the carpet. Till date, neither has any arrest been made in connection with the assassination attempt nor any official statement been issued by the government.
"It is in view of the foregoing events that we take seriously the recent revelation by an impeccable source on this grand plot by the presidency and the EFCC to plant exhibits in the residence of the reverred Senator with intent of framing him up and bringing him to national and international disrepute.