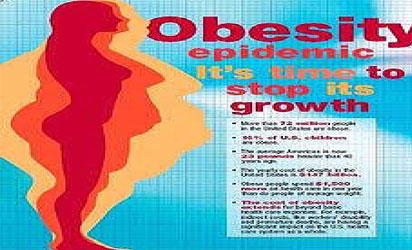 By Chioma Obinna
A NEW report – the "2016 Nigerian Report Card on Physical Activity for Children and Youth" which focuses on physical activity as a major determinant of Non Communicable Diseases, NCDs, has revealed rising prevalence of overweight and obesity among Nigerian children.
According to the Report, schools are not complying with stipulated standard in physical activity. Modelled after the Canadian Report, the Nigerian Report Card showed that 12 percent of Nigerian children are obese and overweight.  It also showed that there was no change from the 2013 report which showed that 90.9 percent of Nigerian children and youth in the urban and rural areas spend over three hours on screen time daily. Television viewing is 90.7 per cent.
The Report recommended that National guidelines on physical activity levels and sedentary behaviour for Nigerian children and youth should be formulated. It also called for policy incorporation of physical and health education activities in the curriculum for all Nigerian schools both private and public.
Sedentary regulation
 The Report also notes that "parents should be engaged to regulate the amount of sedentary time their children and youth spend within the home.  There is also the need to take into account the creation space for leisure and active transportation during urban development and towns."
Presenting the Report in Lagos last week, the Executive Director, the Nigerian Heart Foundation, NHF, Dr Kingsley Akinroye said there was no significant change from the 2013 report as overweight and obesity remained  grade A, the same grade it was in 2013.
Akinroye, who blamed globalisation an urbanisation on the rapid changes in lifestyle with heavy impact on the health of the population, said the negative consequences of these changes are decreased physical activity, increased sedentary behaviour, and unhealthy dietary patterns among others.
He noted a decrease of physical activity among Nigerian children which may result to risk of NCDs.
Akinroye observed that NCDs are becoming increasingly significant causes of disability and premature death in developing countries like Nigeria and called for research on the evaluation of the implementation of the Nigerian policy on sports and youth development at all tiers of government.
"The Report Card will provide for future research, advocacy and interventions on the promotion of physical activity in Nigeria and offer recommendations to governments, NGOs, International agencies and development partners in the public and private sectors."
The Minister  Health, Prof Isaac Adewole, represented by the Head of Clinical Services, National Orthopaedic Hospital, Igbobi Lagos, Dr Mchael Ugbeye,  said government would take the outcomes and recommendations from the report card into consideration for making relevant decisions.
On his part, Past President, NHF, Emeritus Prof. O.O. Akinkugbe noted that WHO Global ND Action Plan 2013 – 2030 provide a roadmap of policies an interventions to realise the targets and reduce premature deaths, hence, the need for the report.