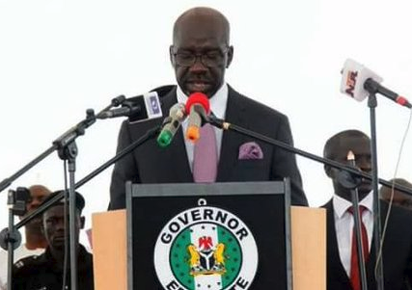 Obaseki
By Gabriel Enogholase
BENIN—EDO State Governor, Mr. Godwin Obaseki, has restated his administration's commitment to build a state that works for the people and improve their standard of living.
The governor, who stated this when he received  executive members of Conference of Non-Governmental Organisations, CONGOS, in his office yesterday, in Benin, said: "We are not afraid.  We are transparent and have nothing to hide from the people.
"My focus is to use available resources to pursue my administration's programmes and improve the lives of Edo people who trusted and elected us to power.
"Non-governmental organisations should contribute to providing solutions to the challenges faced by the government or review government's activities to help them roll out policies that will better the lot of the people, but not to become critics of the government without necessary facts."
He urged the group to be exemplary because total independence, which would enable the group positively check the government, was the hallmark of credibility.
The governor said his administration will not expand the government, but utilise resources accrued to the government to improve the lives of the people of the state.
"I am not keen on establishing more government institutions but training and retraining our people to contribute their quota to the development of the society and the state at large," he said.
Earlier in his address,  leader of the CONGOS delegation, Mr Jude Obasanmi, lauded the governor's policies and success rate while also applauding him for his tenacity and courage to ban unauthorised revenue collection in the state.
which had become worrisome and negative to the state's image.
The governor, he said, was already addressing other important issues of concern to the group, adding that they were more prepared to be involved in the success story of the current administration led by Obaseki.