By Victor Ahiuma-Young & Simon Ebegbulem
Governor Godwin Obaseki of Edo State, yesterday,  commiserated with the Otaru of Auchi, Alhaji Aliru Momoh (Ikelebe III) and the entire Momoh family on Monday's death of Professor Abubakar Momoh.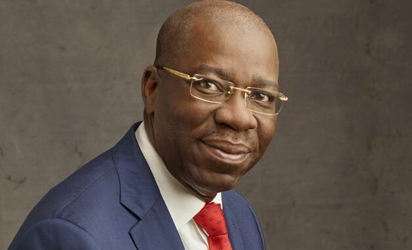 Also, the Nigeria Labour Congress, NLC, said that the sudden death of Professor  Momoh, Director General of National Electoral Institute, was a big blow to the labour movement, describing him as an irreplaceable loss.
According to Governor Obaseki, Professor Momoh was a "bright mind and a worthy son of the rich Momoh heritage,  whose contribution to the academia and to politics was remarkably significant."
In a condolence message , the governor said:  "I cannot imagine the loss that the kingdom feels concerning the passing of Professor Abubakar, but I am shocked and grieved in my heart. He was one of those, who flew the flag of Edo State within and beyond the bounds of the entire country. He was royal, not only in lineage, but in thinking."
On its part, NLC, in a statement by its General Secretary, Dr. Peter Ozo-Eson, said: "In Professor Momoh, we have lost a true friend and an irrepressible ally. He was an intellectual titan, an uncommon progressive, a committed unionist and a core nationalist.
"Professor Momoh was in the trenches with the working class and availed them of his enormous intellectual resourcefulness when called upon to do so, even at very short notice. Our heart-felt condolences go to ASUU (where he was a National Treasurer at some point),  INEC and his inconsolable family."