By Pastor Layi Bamidele
It is not all offer that should be celebrated. There are good and bad offers. You are the one that will differentiate between the two and decide on what you want in life. As much as you have a great and glorious destiny, Satan has also prepared for you a future. It is left for you as a believer to decide in which one to follow, for every great destiny, there is also a counterfeit prepared by devil. What I am talking about is your offering.
Offering literarily means sacrifi-ce or depriving yourself of what you have as a sacrifice of love. Offering does not neccessarily mean money. Offering can be termed to be the demonstration of love.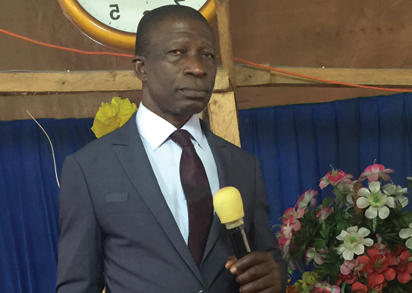 Let's take a look at the master (Jesus) who offered himself as a demonstration of Love unto God. The Bible emphasized that Abraham and Sarah were barren for 25 years. At age 100, Abraham had a promised child called Isaac after his long wait on God. Many times God sent angels to promise them that they will still carry a child even at an unusaul age.
God does things in unusual ways. Not long when Isaac grew, God told Abraham to offer Isaac, the only one child of promise to him as a sacrifice. In all my journeys in life, I have not seen a man both living or dead that can exercise the faith that Abraham exercised. He had great faith and trust in God. Abraham took Isaac unto the altar to offer him as instructed by God, but because of sincerity and faithfulness, God provided another offering.
Abraham didn't even bother to consult his wife before he took the step of faith. Abraham damned all the consequences of what he gave without looking back. Abraham did not regard what people will say, he didn't care what the reaction of his wife would be. Let me advise that your giving must not be conditional, your giving must not be in grudges, complain or murmur.
If God can also offer His only begotten son as a sacrifice to redeem us, what have you that you cannot give. Everytime you are holding unto a thing in your hand, you are only denying yourself of a greater and better benefit from God. God loves a cheerful giver, you don't give grudgingly. Offer-ing also goes beyond monetary and material things. If you love God, you will not serve God condi-tionally. These are the reasons why I pity people that offer their servi-ces unto God conditionally.
The world is in a mess now, where pastors are preaching because of fat offering. People have turned God's work to an avenue to enrich themselves with pastors seeing fake visions just to extract money. It has degenerated to the level where almost 80 per cent of churches now pay instrumental-ists to play instruments.
Some gifts are given to trap people's destiny. So believers need to be careful. Your decision will either make or mar your destiny.
Satan succeeded in the Garden of Eden by way of an offering of advice to Eve. Don't be deceived by the deceit of the devil. You must be careful of the kind of people you take suggestions from. Compromise is the next step to failure. Never you compromise, no matter how bad your situation may look like. If you wait on God you will soon get over that situation.
Satan will not tell you not to go to church again; he will only tell you, don't you see you are too tired, why not take a rest today; afterall you were in church last week. The devil will tell you don't drink much, just take only a glass cup of alchohol.
Never accept the devil's offer. He is all out to ruin your life and destiny.
The moment you take the enemy's suggestion, you are already being trapped by the devil. Never agree to trade your destiny with the devil's monetary gratification.
Life is a choice. It is what you choose to become that you be-come. In II Corinthians 2:11, the bible says: "Lest Satan should get an advantage of us: for we are not ignorant of his devices." Remem-ber in Exodus 25:25-28, when Mo-ses was sent to deliver the Isreal-ites from the hands of the Egypt-ians, Pharaoh gave them a count-erfeit plan to the original purpose of God for their lives. Pharaoh offered three alternatives to Moses:
Go but don't go far. Pharaoh did not say they should not serve God, but they must remain in Egypt. Now do you serve your true God in the midst of the Egyptians, who do not believe in that true God? How can you be an Isrealite inside and an Egyptian outside? Pharaoh wanted them to comp-romise.
Go and serve God ye that are men. (Exodus10:8-11) you may go and serve God, but leave your family with us in Egypt. How can a child of God serve God and leave his family behind. Don't you know your family and children will later draw you back when you leave them behind?
They will be disobedient to you and God's instructions.
Some men are good Christians today but their wives are un-believers or vice versa. The greatest is when the parents are serving God while the children are rebellious. They will bring shame and disgrace to the house.
Go but not with your flock and heards (Exodus 10:24). Remem-ber the bible says: "Where the treasure of a man is, there his heart will be".
Pharaoh wanted them to die of famine. Also, they will not have flock to offer unto God as sacrifice. In closing this means go and serve God, but do not give an offering unto God. The bible says "Honour God with thy substance and the first fruit of your increase (Proverb 3:9).
.Bamidele is General Overseer, Christ Glorious Endtime Evangelical Church, Lagos. [email protected]