One proponent of natural birth said babies born vaginally receive a coating of immune-boosting microbes, and their intestines are more likely to have early colonisation with beneficial bacteria-protections than babies delivered surgically.
WHO says medical
practitioners should not undertake C-sections purely to meet a given target or rate, but rather focus on the needs of patients.
"C-sections can cause significant complications, disability or death, particularly in settings which lack the facilities to conduct safe surgeries or treat potential complications. Due to their increased cost, high rates of unnecessary C-sections can pull resources away from other services in overloaded and weak health systems."
Ideal rate of C-sections
In the last three decades, the international healthcare community considered the "ideal rate" for C-sections to be 10- 15 per cent. New studies reveal that when C-section rates rise towards 10 per cent across a population, the number of maternal and newborn deaths decreases. But when the rate goes above 10 per cent, there is no evidence that mortality rates improve.
A number of theories exist as to why preference for C-sections is on the increase globally. One is that pregnant women are getting older and heavier, and it is these older and heavier women that are undergoing more C-sections.
The average obstetrician sees C-sections as generally safe, but agrees that weighing risks and knowing whether surgery is necessary in a particular case—or even whether a surgery was necessary in retrospect—is much more complex.
Poor maternal health care:
In 2016, The Lancet Maternal Health Series entitled:  Unequal access and low quality of maternal health care hampering progress towards Sustainable Development Goals, SDGs, described the epidemiology of maternal health, the current landscape of maternal health care and services in both high and low income countries, and future challenges and strategies to improve maternal wellbeing. Two broad scenarios identified the landscape of poor maternal health care—the absence of timely access to quality care (defined as 'too little, too late') and the over-medicalisation of normal antenatal, intrapartum, and postnatal care (defined as 'too much, too soon').
Too many C-sec tions?
One of the findings from the series is that too many women are having C-sections. In a chat with one of the series authors, Professor Wendy Graham, a professor of Obstetric Epidemiology at the London School of Hygiene and Tropical Medicine, Vanguard Insight highlighted the issue of too many unnecessary CS procedures going on in the world currently.
Graham who is also Emeritus Professor at the University of Aberdeen said although in many parts of the world, the number and frequency of women dying because of pregnancy has gone down, there is still unfinished business.
According to Graham: "There are still too many parts of the world where too many women are dying and when women are seeking care, they are often getting poor quality care and not at the right time; that is, too little, too late; and getting poor quality when they get things too much too soon.
The big discovery of this series is this problem of quality. Poor quality exists everywhere in the world.   Some lucky women will get good quality care, some no care at all and so each year about 53 million women are still giving birth on their own without any assistance.
Quality of care: She said the two extremes are good quality care and no care at all while in the middle, there is poor quality care. "Sometimes this means women are being given treatment or interventions too early, like Caesarean Sections, when the woman could have been left a little longer to try and let normal labour take place. Intervention is too much where treatment is not evidence based; for instance, routine episiotomy. There is no evidence that every woman needs this procedure.
Lifesaving intervention
"The other extreme that is closer to  women that get no care at all, are those that get treatment too late. Hence we talk about too late too little.   So what we are trying to point out is that everywhere in the world, we need to assure quality that the time of childbirth and in pregnancy and after wards. It is a universal goal."
According to findings, in the Latin America and the Caribbean, overall, there are about 41 per cent of deliveries by C-section. In Brazil it is more like 57 per cent, with a lot of women having unnecessary sections.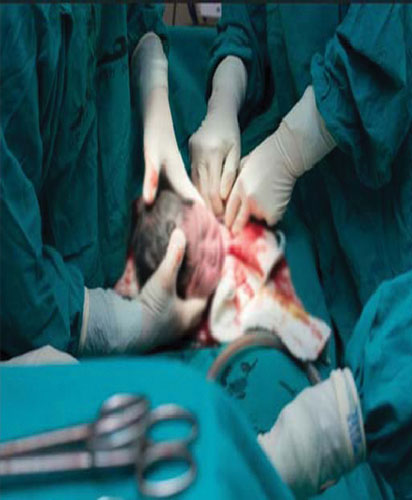 Graham argues that a C-section is a lifesaving intervention that can save the lives of mothers and babies. "For instance, when you have an emergency that needs a C-section, or it is clear that there is going to be problem in labour, you need to do everything to bring out the baby earlier. We are saving many babies by C-section , but once it gets above about 15 percent of deliveries being born through C-section, it will suggest that we are having too many.
Safe or sorry?
"The impact of this development is several. One, C-section can be a very safe procedure but it does carry risks. There are anaesthetic risks, complications, etc. A C-section is not the sort of thing that you should undertake lightly, it is not like having your hair cut, it's a serious surgical procedure, so women and their partners need to be properly counseled before they have one."
Most experts agree that while C-section can be very safe in skilled hands, it still carries risks. There are arguments that many C-sections in Nigeria would suggest a very large proportion of them are not medically indicated as a result of the issue of risk to mother and baby. Graham is in agreement.
"No one can be sure that the risks will not happen if you do a C-section. It is expensive to the health system because it requires an operating theatre, back up of surgical procedure and sometimes that cost is passed on to families. And it uses the operating theatre and may keep the theatre busy when there is a real emergency. So there are series of reasons why an unnecessary C-section should not be encouraged."
Maternal preference: She explained that in parts of the world where women prefer to deliver by CS, the talk is about maternal preference. "Some people take the view that it is a woman's right to deliver by whatever mode she chooses.
"The difficulty with this right is in making sure that women are properly counseled and that they do understand the risks they are undertaking and the cost that it would be to them. Some risks are not medical and may cause anxiety.
Proper counselling
"For example, if a mother has an early traumatic birth she might think she wants to have a C-section, so we have to listen to women but ensure that they properly understand the risks, and go where the services are available and able to provide safe C-section, and that it is not found to take the resources away from other needed emergencies.
This is what is happening in parts of Latin America. There are some health facilities that are focused on carrying out C-section. The whole thing is quite complicated."
Graham argues that in Northern Nigeria there is poor availability of access to C-section   for emergencies and this is where there should be attention because in the absence of a section where a C-section is really needed, there is very high risk of the mother and baby dying if they do not get the procedure.
Unnecessary C-sections: So there is a strange world today, one where  unnecessary C-sections   are being carried out and C-sections that are really desperately needed are not being carried out.
"We need to close that gap. We need to reduce the unnecessary C-sections and make sure those women who really need a C-section are receiving safe quality surgeries to save their lives and the lives of their babies."
Women speak
Mrs Amaka Nnamdi, a nurse said: "Some women choose to do CS for cosmetic or social reasons. I know a woman who asked for CS because she wanted to attend her sister-in-law's wedding in the UK. She came to the hospital at almost eight months of gestation and said she wanted the baby out.
"The baby was brought out, placed in the incubator and she went for the wedding. By the time she came back, the baby had completed nine months in the incubator and she went home with her baby. These days, women opt for CS even though there are some that have genuine reasons.
"For instance, if you have had mymectomy or may be due to cephalopelvic disorder or something like that, that will make a woman unable to give birth vaginally and the person has had CS previously, it is not good to allow her go through labour for a long time.
Social and cosmetic reasons: They opt for CS because they want to be free a week after delivery and they want to look elegant as if nothing has happened. Some will tell the doctor: 'Please when you bring out the baby, trim everything, remove all the fat, I want my stomach to be flat'. So some opt for CS for cosmetic reasons.
Some go for CS for social and cosmetic reasons but majority of women these days don't want to go through labour pains. Some will tell you that someone they knew was in labour for up to 12 hours before she was delivered of her baby so she wouldn't want to go through such terrible pains. This is not the best.
"These days when beauty is more of outward appearance, when a woman will do anything and pay any price to be slim with flat stomach and thighs, most women no longer tolerate the post-pregnancy fat, they opt for CS. This is because it will afford them the opportunity to look chic after birth.
Health implications
"Though with few health implications, but the truth is that once you deliver through CS, a gynaecologist will not want to allow you go through labour for a long time because of rupture. So they will put you on trial of vaginal birth after caesarean, or VBAC.
"They give you a certain period of time and if you don't deliver within that time frame, they take you to the theatre and section you. And you wouldn't blame them
" because if anything happens to you while they are waiting for you to deliver vaginally, they will be blamed. So the best thing for them to do is to take you to the theatre and section you, bring out the baby and have a safe baby and a safe mother."
For Mrs. Ekaete David: "Complications are higher as the number of pregnancy increases. In my case, it was my fourth pregnancy and the doctor kept telling me my baby was too big. I became afraid and asked if I could do CS, she said OK, it was better rather than suffering and eventually going through CS.
"I accepted because it was my fourth and I wouldn't mind even if I am unable to have another one. May be I would have been reluctant if that was my first pregnancy."
According to Mrs. Taiwo Ladele who had her two babies by CS, it was on health grounds.
"I accepted on health grounds for my safety and the safety of the baby. Before I got pregnant for my first baby, I had undergone a fibroid surgery and shortly after that, I took in; so it was not safe for me to deliver normally because the site of the suture may rupture in the course of pushing.
"Then during my second pregnancy, just before full term, I had a surgery and again, it was not safe for me to undergo vaginal birth because the suture was yet to heal completely."
Undergoing vaginal birth
For some women, it is on cosmetic/aesthetics ground. I have a friend who chose CS in order not to get her birth canal out of shape. Some marriages have been known to crash or the men turn to other women with tighter vagina."
In Mrs Florence  Yakubu's case, she had her two babies through CS due to doctor's advice. She said: "I got married a bit late and didn't get pregnant until after about seven years. As I started antenatal, my doctor went through my history and advised that I deliver through CS.
"I asked him why and he explained that due to my age and the fact that I waited so  long to get pregnant which made the baby a precious baby, he wouldn't want to take any risk.
"The only way to ensure my safety and that of the baby was to do CS. He prepared my mind for it. By the time my second baby was born, the first was three weeks shy of two years. It was too early to have a vaginal birth after a CS. Everything went well.
"I think in cases where the woman's mind is prepared for CS, everything goes well over 90 per cent of the time. Where problem arises is if the woman is allowed to first go through labour and when labour stops progressing, the woman is weak, baby is weak and she is wheeled into the theatre to be sectioned. Sometimes, the woman or the baby dies or both. So the doctor just advised based on my history. I was not forced."
Mrs Josephine Madu insisted her doctor was putting pressure on her to undergo CS probably to make more money but she refused. "He tried all he could to convince me, citing medical issues but I vehemently refused. In the end, I went to another hospital and after a lot of prayers, I was able to deliver normally."
Reminded that it could have cost her the baby's life or her life, she said: "I prayed to God and believed that He would see me through and He did. I didn't have the money for CS anyway."
Patients must give consent
According to a medical expert: "Consent is expressed when the patient authorises the medical practitioner orally or in writing that he consents to the modality of treatment being proposed. It is most advisable for procedures involving anaesthesia and surgery or where a procedure is very risky. Consent need not be in writing but documentation of consent may serve as a defence for the physician against a future claim that the patient was coerced.
"In common law, consent to medical treatment may be expressed or implied.   Consent is implied in circumstances where the doctor and patients without saying so directly, understand that the patient has agreed to an intervention, be it medical examination or a form of treatment."