By Johnny Agbakwuru
ABUJA—INDICATIONS emerged, yesterday, that the National Assembly is considering some of the recommendations from the 2014 National Conference to be incorporated into the ongoing constitutional amendment.
There have been clamour for the President Muhammadu Buhari's government to implement the report of the conference.
Those behind the clamour had argued that only the implementation of the conference report will bring to an end some of the allegations of marginalisation by some ethnic nationalities and also agitation for resource control.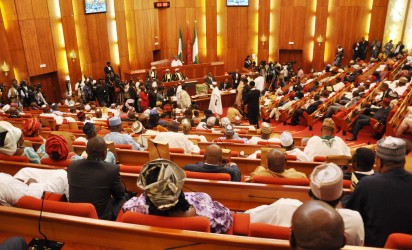 Although the current administration appears not willing to implement the reports of the conference, Vanguard  gathered that the report of the conference was part of the considerations in the ongoing constitution amendment by the 8th Assembly.
A source close to the National Assembly Ad-hoc Committee on the review of the constitution told Vanguard in Abuja that the national conference report was part of the alterations.
The source who spoke on condition of anonymity because he was not authorized to speak on the matter, said that devolution of power was another area that had received the approval  of the committee.
Though he did not mention some of the reports of the conference that were contained in the ongoing alteration process of the constitution, he explained that there was the approval by the constitution committee of the Bill for an Act to alter the provisions of the constitution of the Federal Republic of Nigeria, 1999 to decongest the exclusive legislative list and give more legislative powers to states and for related matters which he said was also contained in the conference report.
Other areas that had received  the approval of the committee include, "The Bill seeking to abrogate the State Joint Local Government Account to empower each local government councils  to maintain its own account into which shall be paid it's allocation form the Federation Account and from government of the state."