By Yinka Kolawole
ACTING President, Prof. Yemi Osinbajo, has reiterated Federal Government's plan to support small businesses, noting that inauguration of the Micro, Small and Medium Enterprises (MSMEs) Clinics is to facilitate easy interactions between small businesses and regulatory agencies.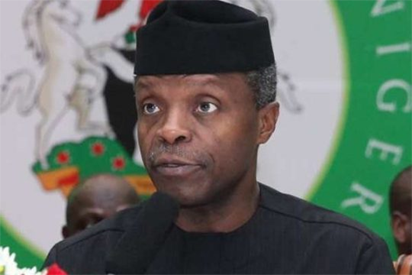 Osinbajo stated this, in Katsina, at a gathering of small scale businesses, industry and stakeholders across the public and private sectors involved in developing micro, small and medium scale enterprises at the launching of the Katsina State's MSMES Clinic.
Industry regulators
According to him, the MSMEs Clinics that is now going round major cities in the country was designed to give small businesses the opportunity "to meet with the industry regulators, to talk to them and to hear their problems". He added that he was so excited to see not only business men but women who are focused and serious about their businesses.
The acting president explained that the idea of the MSMES clinics which he has being personally attending is part of the efforts of the Buhari administration to close the gap between MSMEs and relevant Federal Government regulatory agencies like NAFDAC, CAC, SON, BOI, FIRS and others and ensure that those agencies become facilitators of businesses not obstacles to business development.
A statement by Laolu Akande, Senior Special Assistant to the President (Media & Publicity), Office of the Vice President, noted that Osinbajo who declared the MSMEs Clinic open, was accompanied by Minister of State for Aviation, Mr. Hadi Sirika; Minister of State for Industry, Trade and Investment, Hajia Aisha Abubakar; Chairman of Federal Inland Revenue Service, Babatunde Fowler and; Special Adviser to the President on Political Matters, Senator Babafemi Ojudu.
 How FG plans to boost MSMEs – Osinbajo's SA
Meanwhile, Special Adviser to Vice President Osinbajo on Micro, Small and Medium Enterprises (MSMEs), Mr. Tola Johnson, said the Federal Government has started implementing plans to empower 360,000 MSMEs annually.
Johnson, who is also a member of the recently inaugurated National MSMEs Council, made the remark in Abuja. "The target of the MSMEs clinics is to try and affect positively, the lives of 360,000 MSMEs in a year. People keep saying it is a very tall order, but it is achievable. So far, we have only gone to three states and we have successfully engaged with 4,602 MSMEs and we haven't even touched Lagos, Port Harcourt, and Kano. In May, I'm sure the number will double significantly because we are going to five states," he stated.
The vice presidential aide noted that from 4,602 MSMEs they had interacted with, it was discovered that access to finance was not the main bottleneck of MSMEs in the country.
He asserted that owners of MSMEs were, first of all, in dire need of capacity building before accessing the right kind of financing facility. "This is why you have businesses that open in January and shutdown in December. So many of them need capacity building then access to finance. Access to finance for at least five years tenure, single digit is the right structure for these businesses and government is already working to address this with the newly established Development Bank of Nigeria (DBN).
The core function of DBN is to address the bottlenecks in the MSMEs sector. It intends to clean it up, make it more attractive and serve as wholesale banker to commercial banks, Microfinance banks so they can lend to MSMEs at a good rate and longer tenure.
Bank of Industry (BoI) also decided that the MSMEs Fund inaugurated about two years ago, which wasn't doing particularly well, will be re-launched this year in line with the MSMEs clinics. We told them you cannot use universal criteria to judge MSMEs.
So try and reduce some of the criteria," he stated.
Johnson revealed that the Federal Government is also working toward reopening at least six industrial development parks in the country, one for every region. "The government has about 23 industrial parks, only about two or three of them are working, the others are moribund. We have gone to inspect the one in Abuja for a start, and looked at a few around the country, to see how we can either through Public Private Partnership or whichever way the government decides to, quickly reactivate at least six.
"We plan to have SMEs access them, because what this does for them is that it will help solve many of their business problems," he said.