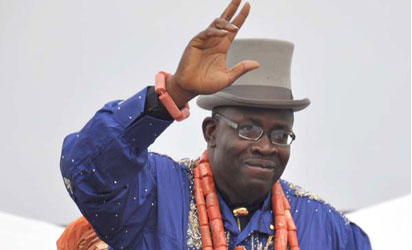 Gov Dickson
By Samuel Oyadongha
YENAGOA—AN elder in Bayelsa State and former Chief Whip in the old Rivers State House of Assembly, Chief Thompson Okorotie, has expressed concern over the continued attack on Governor Seriake Dickson who queried the performance of Bayelsans, who have held public offices at the national level in the last six years.
He said that most of those painting the governor in bad light because of the remark were not even present at the Isaac Boro Day event and only read reports in a section of the media that were clearly biased and unprofessional.
Okorotie, yesterday, in Yenagoa noted that Dickson based his speech on the moral questions raised by King Mosi Agara, the paramount ruler of Kolokuma clan,  the late Boro's homeland.  He noted that the monarch had asked rightly if privileged Bayelsans were keeping the dream of the departed hero alive.
Okorotie observed that it was based on that premise that the governor also expressed concern on the level of contribution those who had represented the state have made, adding that their attitude have translated to several missed opportunities for the state.
Okorotie said, "I was present at the event where Governor Dickson  spoke about Boro and the significance of the Boro day anniversary.  The views expressed by the governor on the years of wasted opportunities which included six years at the helm of affairs of the country was not intended to disparage the person of former President Goodluck Jonathan.
" It was rather intended to call us to duty to ensure effective utilization of the opportunities we have had and still have to serve the nation and the Ijaw ethnic nationality.  The views of the governor are widely shared by the vast majority of Bayelsa and others in the Niger Delta."
According to him, Dickson used the occasion to register his displeasure and regret over the issue and lampooned those who were more interested with selfish interest and the 'Pull Him Down Syndrome.'
The former lawmaker maintained that nobody has given more support and sacrifice to the former president within and outside government than Dickson as he stood by him during the presidential election and accorded him a heroic welcome back home party.
He stressed  that Dickson's comments do not warrant the extreme negative and divisive views that had been expressed by a very few people who do not wish the Ijaw ethnic nationality well.