Former Governor of Abia State, Dr. Orji Kalu, has commended Nigerian workers for their contributions to national development, saying their steadfastness and patriotism are remarkable.
According to him, Nigeria is blessed with abundant human and natural resources and as such, she must take her rightful place in the comity of nations.
Kalu made these remarks while feasting with management staff of his business conglomerate at his Abuja residence weekend in commemoration of this year's  May Day.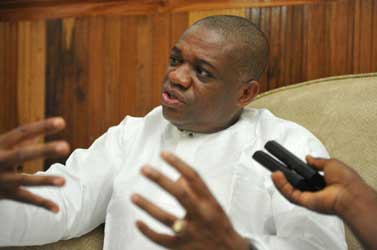 He urged government at all levels to improve the welfare of workers as a way of motivating them to be more productive in the discharge of their duties.
He said: "I join Nigerian workers in celebrating the 2017 Labour Day. Workers both in the private and public sectors have continued to deploy their expertise in advancing the cause of the country. It is not out of place for workers and government or employers to have disagreements but there must always be a meeting point for both parties. Each party must play its role at all times, workers must adhere to the principle of best global practices and also give in their best in their respective assignments and employers must provide improved working conditions for their staff."
To build a decent society, it is the responsibility of everyone and much is expected from the working class because of their large numbers".
The former governor, who recalled that in his days as governor of Abia State he ensured prompt payment of worker's salaries between 23rd and 27th of every month, lamented the non-payment of workers' salaries and pensions in some states.