By Ochereome Nnanna
OLUSEGUN Adeniyi's third book: Against The Run Of Play (he has now written about the General Sani Abacha, Alhaji Umaru Yar'Adua and Dr. Goodluck Jonathan regimes) was bound to ruffle feathers any which way because of the tempestuous trappings of the Jonathan era which produced the first democratic transfer of power from one regime to another in our history.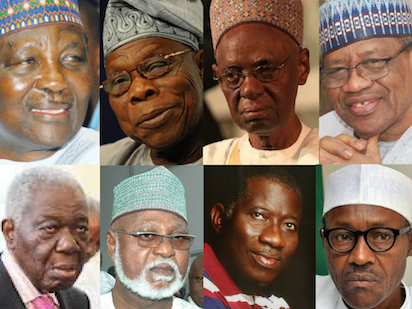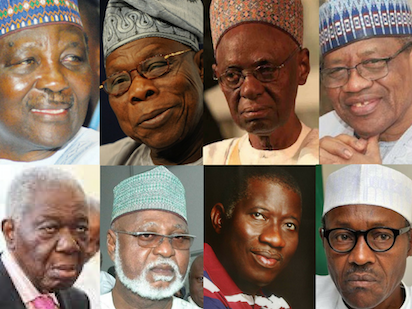 One of the commentators in the wake of this book was Nigeria's first two-time president, General Olusegun Obasanjo, who said that from Day One, Jonathan was too "small" for the Office of President of the Federal Republic of Nigeria. The first part of this article mirrored the fact that Obasanjo single-handedly selected Yar'Adua and Jonathan "against the run of play" but in furtherance of his personal interests, knowing that with Yar' Adua terminally ill, Jonathan would eventually become the President of Nigeria.
In his five years as Nigeria's leader, Jonathan was not much different from the Jonathan that was Deputy Governor of Bayelsa State whom the same Obasanjo pushed into the governorship seat by getting Governor Diepreye Alamieyeseigha impeached. From Day One, Obasanjo made Jonathan's presidency possible. So, what did Obasanjo see in this gentle and self-effacing Otuoke native that assured him that he was the best man for the job? I share the widely-held view that Obasanjo saw Jonathan as the man who fitted snugly into his post-power interests; someone he could intimidate, control and manipulate while maintaining an iron grip on the political gravy machine, the Peoples Democratic Party, PDP, as its self-appointed Life Leader.
When the Ijaw hawks around Jonathan, his ebullient wife Dame Patience and of course the man's own determination to beat his own path asserted themselves against Obasanjo's expectations, the thwarted Ebora of Owu-Abeokuta decided to enter the trenches, especially as Jonathan became increasingly vulnerable to multifaceted subterfuges. I see this persistent badmouthing of Jonathan by Obasanjo as a continuation of his personal war of attrition, knowing that Jonathan is not like Professor Wole Soyinka who will readily enter the mud with you.
About Jonathan's alleged "smallness" as President, I have heard many people say the same thing. Most of them were his ardent supporters who felt the full vapour of Jonathan's electoral defeat and handover of power to Muhammadu Buhari without a fight. So, what in other saner climes would pass for nobility and patriotism (which actually aided his eventual ouster) some Nigerians would rather see as evidence of "smallness". Let us look at some of these factors.
Number one was the manner of appointment of the Independent National Electoral Commission, INEC, Chairman. Jonathan bowed to popular wishes and appointed a man he never knew or met, Professor Attahiru Jega, to conduct the two presidential elections during his probable two terms in office. Obasanjo, the "big" president would never make this "mistake". As a believer in do-or-die democracy, he would put someone there who would dance to his tune. Another "big" President, Buhari, made sure of pocketing the INEC by putting "his people" there; people so close to him that they could never let him lose elections under their watch.
So, while "small" President Jonathan regularly congratulated the opposition when they won Jega's elections, gave the All Progressives Congress, APC, freedom to form a solid alliance without internally undermining it as APC is accused of undermining PDP today and told Nigerians that his ambition was not worth the blood of fellow citizens, "big" presidents abducted governors, removed the leadership of the National Assembly and allowed their followers to butcher innocent people just because they lost elections. To top it all, he handed over power to the winner, Buhari, to avoid bloodshed in line with his pacific philosophy and earned the applause of the civilised world out there.
Indeed, there were things that happened under Jonathan that made many of his followers and critics wonder if he was truly capable of wearing the giant's robe of the Nigerian Presidency.
He allowed himself to be pushed around a whole lot. He should have stood his ground and forced through the deregulation of the downstream of the petroleum industry. If he had done it in January 2010, by September of the same year everyone would have got used to it. The sponsored "occupy" protesters would have gone home after a couple of weeks. Nigeria would have saved the over four trillion naira spent on the corruption-riddled fuel subsidies. Fancy what over $20 billion would have done to our infrastructure and power sectors in the hands of a focused, visionary leader.
Jonathan also made follies in the Boko Haram fight. He seemed afraid to confront the menace head-on at its early stages, particularly its sponsors. It was unpresidential to tell Nigerians helplessly that there were Boko Haram members in his cabinet. He gave away too much to the North in the hope of their support for his second term, thus neglecting his faithful support base. As it turned out, the North with Buhari as its messianic arrowhead, was implacable. And they had an enthusiastic South West mainstream and an embittered Rotimi Amaechi ready to lend more than a helping hand.
Jonathan's graces and follies were many. Just a little more political foresight and decisiveness here and there would have changed the story for him.
They say it is the victors that possess the bragging right to write history as it suits them. That is probably why Obasanjo, who benefited from the PDP's post-military largesse and dumped it when he could no longer suck from it, can afford to gloat at Jonathan's downfall.
I still maintain that what happened in 2015 was neither so much a defeat for Jonathan nor victory for Buhari as a victory for Nigeria. Nigeria won because Jonathan prepared the ground for the victory to take place. Buhari owes his electoral triumph to Jonathan and must accord the Otuoke-born lecturer that respect.
Jonathan, as the hero of our democracy, sure owes us a story.