Ebun Sessou & Chigoziri Onuoha
Mrs. Bisi Bright, Executive Director of LiveWell Initiative, takes us round her life, career and health challenges.
According to her, she runs health programmes for people in order to save their lives and also makes sure that the wellness awareness campaign is taken to the downtrodden to reduce death rates.
Kindly take us through the Live Well Initiative journey?
It all started when I was told that a friend of mine lost her 44year old sister- who was an Engineer- to heart attack. Already, I was trained as a clinical pharmacist with my qualification in public health and that was what led to the birth of Live Well Initiatives.
I was a lecturer at the West African Post Graduate College of Pharmacy and I was their Secretary-General. So, when I went for the 2004 Washington Health Congress, I met, Professor Yunus, the man delivering healthcare to the poor in  Bangladesh, who started a world-wide micro-credit initiative. The Prof was in charge of giving loans to people without any collateral. I was so annoyed with myself because that was an avoidable death. I then decided to set up the wellness initiative and with the micro-credit submit campaign.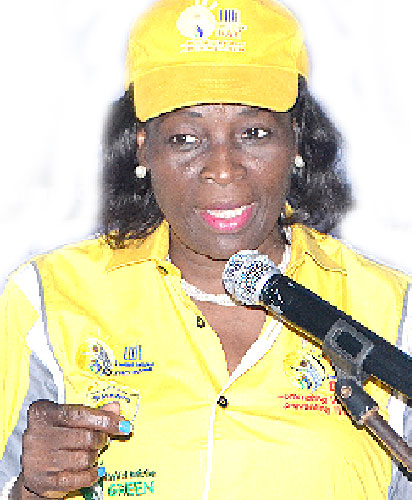 He said who would like me to help them set up a branch in  Nigeria? So, I began the processing and also designed a project called 'The Illness Poverty Alleviation Programme' when I returned. This was targeted at people in the bottom of the pyramid, who are prone to losing their lives or becoming permanently disabled due to certain illnesses which they are unable to tackle because of poverty. I was ready to get an office for its take-off when my son inspired me to set up my own organization since I designed the programme, instead of leaving it for another organization to run. He also advised me to register the name of the business. I decided to start a wellness foundation.
Already, I had made it clear to Professor Yunus from the onset that the Illness Poverty Alleviation Programme would remain my intellectual property. We were in the process of ironing that out when my son inspired me. That was how I started LiveWell with five programmes: Executive Health Enlightenment Programme, Malaria Eradication, HIV/AIDS Enlightenment, Drug Use and Abuse Scheme and then the Illness Poverty Alleviation Programme.
How did the name LiveWell Initiative come about?
It was really a challenge. At first, I thought of a French name but my son said not everyone will understand it. Then, a name Live Well Initiative came on my mind and he (my son) helped me design the logo and that was how we started in 2006 and the inauguration of the foundation took place in 2007.
The first phase of the programmes launched was when malaria was a major epidemic in the country. The foundation decided to launch a programme in order to reduce or eradicate malaria. After that,  cardiovascular health programme was also organized. That was to sensitize people on avoidable disease that could lead to loss of life. And that was how the "Executive Health Programme" was organized. There is also a programme designed for the youths in the country.   Then, the "Drug Abuse Programme" was organized. There was a programme designed for the poor people in accessing good healthcare which was called "Illness and Poverty Alleviation Programme" which was designed to work against poverty.
While you started your business, were you still working with the company that set up the micro-credit submit campaign?
That's a very interesting and good question. The company was also into health programme. It had branches even in  Ghana. I was told to work with the health personnel in  Ghana. I did the script but I thought it was wise to start my business. So it was so easy when I decided to establish my business. The only thing was that I wrote to them that I would no longer be able to help them establish an office in  Nigeria  and that was how it ended.
Do you think the decision to own your business was better?
I felt I was in a vantage position to work for micro-credit submit campaign and I really wanted to work for the company because it was a company from Bangladesh and was trying to expand its coast. But at the time I had to make the choice of starting my business. I felt I would do better impacting the lives of Nigerians rather than working for people.
So, what were the challenges starting Live Well Initiatives?
The late Dr. Lilian Trega was a close friend but we lost her to cancer during our pilot programme. While she was alive, she played a key role when we started. It was also the period other international foundations were not supporting NGOs and we did not want to come up with donor fund so it was really challenging but we were focused.
In one of our programmes, we invited an expert on business planning and strategy. We drew up a-5-year business plan which was a short time, then the middle plan as well as the long term plan. We also employed the services of volunteers who we were not paying.   Anyone who was not ready to be a volunteer could not work with us because we could not pay salary but the only incentive we were giving was the training. That became a barter between us and individuals who wanted to partner with us. I was under-studying some things about NGO.
In our five years business plan, we had marketing and financial strategy but the financial strategy was a very small one. We had to look for money from family members; I listed family members to give me money, I included some companies including my chairman's company; listed a few big banks. I thought those banks would help because it was simple. It was part of the company's principle not to ask for donation and that was a breakthrough for us.
We then decided to have partnership programme which was the key word of Live Well Initiative. We believe in partnership, sustainability and innovation.   We believed that innovation will make us different from everybody else, we believed that if we offer partnerships, people will look at the partnership and we felt it will work for us.
And because the programme must be sustainable, there was need to generate lots of income to run it. Our start-up budget plan was 1.5 billion and to cut the long story short we were able to raise funds but surprisingly, most of it came from my pension because I was working in Nigerian Ports Authority then. I discovered that many people were not willing to support such a business except it was already known. Unfortunately, some intimate friends were unable to support it but, we were lucky because we followed the advice of our Chairman, Mr. Edun and we had a few companies that supported us. Right from the beginning, we started getting value for money with the arrangement and that has been our model till date.
The company started with two masters degree holders- one had a Masters in Public Health; but, we lost the two of them to bigger companies because we couldn't pay their salaries. My son has been my source of inspiration; he was never tired of telling me to continue the work. We have found that the best way to overcome financial challenge was to get steady income-earning projects. So we have a steady source of income and we diversify our sources of income. Today, we have products and services including Executive Health Seminars, we run  Sick  Bays, Quarterly Health Seminars, and Training among others. Our annual Grand Health Bazaar   is also another product that has been consistent.
Any regrets?
I regretted setting up a-4-man committee that almost pulled down the business. One of them was a senior staff of the company but I never knew he was not working for the growth of the company. He was not aligning himself with the principles of the company. I really regretted allowing the man to go that far. But looking back, every organization must have a structure, values and must have a disciplinary code or system  and because we are a philanthropy based organization, we felt we shouldn't have stressed the disciplinary code but I found out that although I am the CEO, I should have handled the project myself. This happened about three years ago and I also felt bad that the person was thrown into the open market. It only taught me a lesson that, despite being the CEO, you should not ignore the advice of your workers and that at times, your workers are more powerful than you. The committee that was set up was trying to secure the organization but I was being sentimental that the person was hard working.
How would you rate your relationship with media?
Vanguard was one of the few media that really helped in promoting the organization and we owe a great deal. Unfortunately, we have challenges in partnering with journalists. I am not accusing the media of anything because I know what it takes.   To answer your question fully, we have not gotten the support we need from the media. But for the little support we are getting, we truly appreciate it.
What is the role of your husband in the organization?
He is a stakeholder  but my children  are more involved than he is.
What can you say about the way people eat?
It is so terrible and very unfortunate. I think it is natural to eat what they like but it is very important not to indulge in bad eating habits.   I loved chocolate  because I come from a family that loves chocolate a lot and we were always going to the dentist but that still did not teach me a lesson and   I grew up with a sweet tooth and at a time I started teaching my children how to eat sweet things. But there is nothing wrong in indulging because it is only natural. One must know when to stop and one must be conscious of one's health if not, the health will be compromised.
There was a time I used to take up to twenty cups of coffee in a day, I have never smoked but I was like a smoker but my cigarette was the coffee. It was really very bad.   And I used to boast that my health was perfect. You know human beings tend to self indulge   and I continued like that but down the road, I had a major health challenge and I had to change, I had to reverse my diet and I stopped taking coffee.
But it is not everybody that gets that kind of luck, I mean to reverse. So I really thank God that I am alive to tell my story. So funny that was not what even made me go into health and wellness campaign. People live recklessly and in particular,   men are so careless about their health. They do not do anything about it until there is something so serious.
Women are more likely to do something about their health. That is why we need wellness organizations to preach and promote wellness.   A regular human being is not likely to think twice about their health even as a health professional, I knew it was wrong to take so much coffee, beef and all that but I continued,  thinking that I would be young forever.
What major health challenge have you encountered?
The first major challenge I had was when my front two teeth were removed and replaced with implants. Today, if you give me apple to bite, my tooth will pull out with it. The second one was that I discovered I had a cholesterol impairment. Cholesterol is a very important fat in the body. The liver is a main organ that processes food. I have been on diet because of cholesterol. The third challenge I had which was a major one was that I had some gynecological issues. I had fibroid in my womb, the fibroid was so severe that it was taken for a cancer. It was a life threatening one and I prayed that, if I survived, I would change my health practices. So, I had to undergo surgery and my womb taken out.
At the point you lost your womb, what happened?
I feel great that I am alive to tell the story. Right now, I have two of my workers in that same situation; nobody wants to play with such diagnoses because it is a life threatening one. God was on my side and everything went well, I had the surgery, I had my post surgical treatment and  that I am alive and well today is by the grace of God. I had already started my NGO before the health challenge started and my workers knew what I was passing through.
Do you think you are fulfilled?
I have experienced so many things. It also gives me the opportunity to possibly explain things to people in their own way. For example when we screen people I always tell people that they should not be worried that they would survive it. The most important thing is getting screened early, that is why I laugh at the fact that my immediate family seem not to realize what I am doing because they all know what I have gone through and maybe they just feel I am keeping myself busy but it goes beyond that. I believe it is a spiritual mission, I believe it is God's work, I always joke that I am a missionary but health care missionary. We carry out health mission all the time. Mine was an example. What really led to the initial surgery was because they found out that I had bad cervix and the gynecologist took out the cervix because the cervix is the entrance to the womb and if they slice up the cervix, a new cervix would grow and that should be fine. So a gynecologist had taken off the cervix and another one grew and it was fine but I was still having symptoms like irregular bleeding among others.
Those days, cancer used to be so scary. Today, I can boldly tell you that, if it is detected early, it could be treated and reversed. Some health professionals run away from screening. People should never be scared too get screened. If we are talking of hepatitis, people do not want to be screened because they are scared but if a person is tested positive with hepatitis B for example the person might not know until twenty years and by then the liver would have been damaged and no human being can live without a liver.
Can you highlight some of your current projects?
We have been able to retain the programmes we started with. In addition, we have some new programmes. We have screened over 25,000 people on hepatitis B and C and we found a very high prevalence of hepatitis B compared to C. The hepatitis C is curable and uncommon in West African countries but the B is more in  Africa. For an oral health expert, you can know if a person has diseases through the cavity. We are running an oral health screening programme now with Harvard University Public Health. We are also screening for foot health. We run up to 17 different screenings including body fat screening, sugar, cholesterol, HIV, prostrate cancer screening for men using the longest finger to test, we also do the breast screening for women and also cervical screening. Most of our screenings are out of hospital screening, if a person is tested positive, we don't give them a confirmatory diagnosis, they go to the hospital and get a confirmatory. Because the hospital screening are different from what we call the rapid diagnosis which are the ones we do.