By Sola Ogundipe
IN its characteristic style of pioneering innovative health initiatives, the Lagos State government has launched a fully digitalsed auditing scheme of the Maternal and Perinatal Death Surveillance and Response, MPDSR.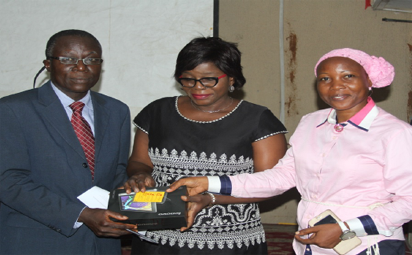 The launch concludes the transition from paper-based Maternal Death Review (MDR) to Maternal and Perinatal Death Surveillance and Response (MPDSR) and digitisation of the scheme, which started a year ago.
Already, the Lagos State University Teaching Hospital, LASUTH, and 23 secondary health facilities, that have commenced electronic auditing of maternal and perinatal deaths to improve survival vulnerable groups.
The initiative was flagged off with  distribution of electronic tablets to  Heads of the 23 facilities.
The tablets, which were procured by MamaYe-Evidence for Action (E4A), a maternal and neonatal health support programme funded by the Bill and Melinda Gates Foundation, were configured and supplied by InstratGobal Health Solutions of the United States.
Director of Family Health and Nutrition, Lagos State Ministry of Health, Dr Folasade Oludara,who represented the Commissioner for Health, Dr. Jide Idris, at the flag off, remarked that the use of tablets for data capture and submission will  provide real time information on MPDSR in Lagos State, improve decision making processes, and ultimately increase the survival of pregnant women and newborn children.
Permanent Secretary, Lagos State Health Service Commission, Dr JemiladeLonge,  stated: "This great initiative of digitizing our MPDSR process is an opportunity we are going to maximize to improve the survival of pregnant women and our babies in Lagos State. We greatly appreciate MamaYe-E4A for supporting it."
Lagos State Coordinator of MamaYe-E4A, Adenike Badiora, representing the Country Director, Dr Tunde Segun,  said, "The process continues; there will be documentation; and lessons will be learnt to improve on the process."
Adoption of the MPDSR in the State follows  adoption of the scheme by the  Federal Government of Nigeria in March 2016.
The process commenced in April 2016 with a joint training programme by MamaYe-E4A and Lagos State Ministry of Health, for relevant health personnel. A team of four consultants led by a renowned obstetrician/gynaecologist, Prof. Oladapo Shittu of Ahmadu Bello University Teaching Hospital, Zaria.
A statement by MamaYe noted that MPDSR adds perinatal death audits and provides additional public health benefits of quality of care improvements and real-time data capture on the characteristics of both categories of deaths.
Heads of the beneficiary institutions were optimistic the Scheme would improve record keeping because it eliminates the cumbersome paper-based system, which is a disincentive to record keeping.
Facilities implementing MPDSR that received one electronic tablet each areAlimosho General Hospital, Lagos Island Maternity Hospital, Badagry General Hospital, Randle Gbaja General Hospital, Harvey Road Health Centre, Shomolu General Hospital, Ifako-Ijaiye General Hospital, Ajeromi General Hospital, and OrileAgege General Hospital.
Others are Agbowa General Hospital, Apapa General Hospital, Ijede General Hospital, Ketu-Ejirin General Hospital, Ikorodu General Hospital, Isolo General Hospital, Gbagada General Hospital, Amuwo-Odofin General Hospital, Epe General Hospital, Ibeju-Lekki General Hospital, Massey Street Children's Hospital, Mushin General Hospital, Onikan Health Centre, and Lagos State University Teaching Hospital.