WLADIMIR Klitschko has called for an instant Anthony Joshua rematch after losing the boxing classic at Wembley last night.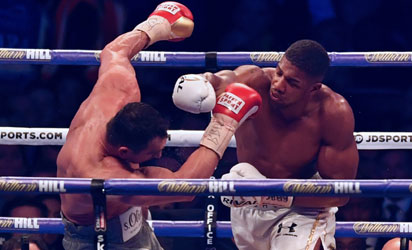 The big Ukrainian was floored in the 11th round against the Brit, and has admitted he is "interested" in taking on the now IBF, WBA and IBO champ immediately.
And it is not just trash-talk from the 41-year-old two time world champion, as he says there is another bout mentioned in the contract.
Klitschko told Sky Sports afterwards: "Of course, we have it in the contract, right now I'm interested.
"I need to analyse what the heck happened. I wish I could raise my hand, instead of somebody who didn't make it back to back.
"But congratulations to Anthony, he got up, he fought back, and he won the titles." Klitschko was floored three times by AJ during the beguiling fight in front of a record 90,000 crowd – while himself flooring his opponent in round six.
But he could not finish Joshua off with the telling blows, unlike the younger man who had previously never got past round seven in any of his 18 previous successful fights.