Leonardo Jardim raised doubts about his future as Monaco coach on Sunday saying he would hold talks with club vice-president Vadim Vasilyev this week.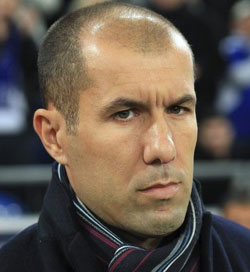 The Portuguese, 42, has been linked with jobs in the Premier League after inspiring Monaco to their first French title since 2000 and the Champions League semi-finals.
"I'll talk in the week with Vadim," Jardim said when questioned about his future on the Telefoot programme.
Vasilyev added: "We'll talk in the coming days and will offer him an extension.
"For me, our coach for next season is Leonardo and as long as he hasn't said he's leaving — he hasn't told us that — then he's our coach."
Vasilyev said a contract extension would also be offered to Colombian striker Radamel Falcao, while accepting that there would be changes in the squad.
"To have players coveted by other clubs, these are good difficulties. Every club official would like to be in my shoes.
"The idea is to extend the contracts of most players, to keep them, even if there'll obviously be some departures."
Kylian Mbappe, dubbed the new Thierry Henry, has been linked to Real Madrid and Manchester United and it would be difficult for Monaco to resist an eye-watering offer for the 18-year-old.
Premier League clubs are also keen on Tiemoue Bakayoko, a revelation after a difficult first two years at the club, and Chinese clubs could come back in for Falcao.