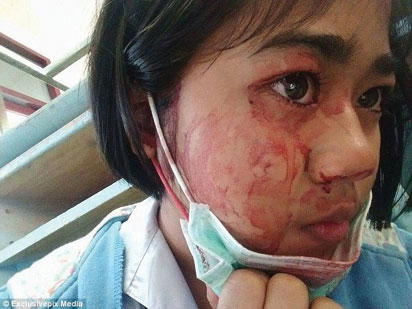 Sweating blood.
By Sola Ogundipe
Hematohidrosis. If you are hearing this word for the  first time, it is medical jargon for "sweating blood." Although shocking and quite messy, the condition also known as hematidrosis and hemidrosis is quite painless and, thankfully, extremely rare. Only one person in 10 million people gets it at any time. But it is gruesome to live with.
Ask 7-year-old Phakamad Sangchai about this mysterious bleeding condition and she'll tell you the story of her life. Phakamad "sweats" blood. The little girl from Nongkghai, Thailand, practically bleeds from her eyes, nose, ears and skin every time she gets a headache. Her life is like a horror movie.
The strange but painless condition began spontaneously from the skin and mucous membranes six months ago and has defied all treatment efforts. Phakamad continues to suffer from the mysterious condition.
"It is really spoiling my life and I am so concerned that it will get worse," she laments.
Doctors are not exactly sure what Phakamad's diagnosis is, but her mother, Nipaporn Khantain, believes her daughter is living with hematohidrosis. The illness has taken its toll on their family and Nipaporn desperately seeks answers to help obtain treatment.
"I have searched on the internet myself and found that something called Hematohidrosis, which could be the condition, but we are waiting for an answer from the hospital.
"My daughter has always been a very happy child and still continues to smile when she can, she is a very brave girl," she lamented.
Phakamad is not alone. An unnamed 13-year-old boy is also reported with history of spontaneous bleeding daily, more so during school hours of 9-11 am and this lasted for around one minute. It recurred after five minutes and the patient bled continuously or intermittently followed by spontaneous cessation.
There was no past history or family history of bleeding tendencies, nor of any systemic diseases or evidence of any trauma, scratch marks or any sign suggestive of bleeding.
On examination, there was oozing of blood stained fluid from face, arm and trunk. On mopping, it disappeared immediately leaving behind no signs of trauma, nor any disease only to appear again within few seconds. This fact confirmed it as sweating of blood as opposed to bleeding.
According to medical experts, hematohidrosis may occur when a person is suffering from extreme stress, for example, facing his or her own death.
Very few cases of have been reported in medical literature. The exact etiology is unknown but it is believed to be a systemic disease, associated with "vicarious menstruation"—a condition in which bleeding occurs from a surface other than the mucous membrane of the uterine cavity at a time when normal menstruation should take place.
One school of thought says that there are multiple blood vessels around the sweat glands arranged in a net like form. It is believed that under the pressure of great stress the vessels contract. Subsequently as the anxiety passes the blood vessels dilate to the point of rupture. The blood at this point goes into the sweat glands which push the blood to the surface and manifests as droplets of blood mixed with sweat. However one looks at it, it's quite an unpleasant condition to encounter or experience.