Tyson Fury quipped that he could beat Anthony Joshua with one hand tied behind his back.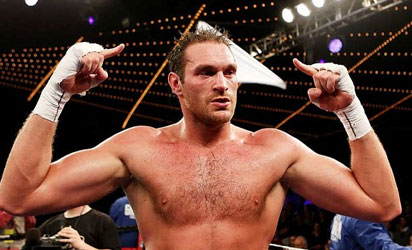 Having watched AJ overcome Wladimir Klitchko at Wembley in front of 90,000 fans, Fury wants a piece of the action in an all-British mega-fight, and responded to Joshua calling him out in the ring.
The former world heavyweight champion told Sky Sports: 'Styles do make fights but I am sure I can beat AJ with one arm tied behind my back 'I don't even need a warm-up if he wants this, I  have been out of the ring as long as Klitschko but the difference is, I am not 41, I am 28.
'AJ did really well to come back but I am not 41 or getting old. He is just a pumped-up weightlifter but [Klitschko] couldn't land one of those of those hooks on me, at all.
'It is a total clash of styles, a total clash of personalities, the complete opposites. I would just like to congratulate AJ for getting through the nip-and-tuck, life-and-death situation, against an old man, so well done.
'But let's face it, I am the man, the number one in the division. 'There can only ever be one heavyweight, especially in our part of the world, and it's me. It definitely isn't a pumped-up heavyweight, I can tell you that.'