By Daud Olatunji
ABEOKUTA—The wife of Ondo State governor, Mrs. Betty Akeredolu, yesterday, made a scary revelation when she disclosed that she had been a victim of breast cancer for 20 years, but survived.
Akeredolu, whose husband, Rotimi became governor on February 24, made this revelation in Abeokuta in the presence of 13 other southern governors' wives, who were in Ogun State to attend the fifth quarterly meeting of Southern Governors' Wives Forum at the June 12 Cultural Centre.
While speaking on prevention and control of cancer using her personal experience, she described her experience as traumatic, noting that there was the need to create awareness about the dreaded ailment.
She said when the lump was detected early, the necessary medical remedy could be sought.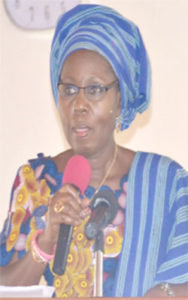 According to the Ondo State First Lady, "cancer progresses with time and in stages; it starts with a painless lump. If you don't take it to doctors early, it is a ticking time bomb.
"There is need for fund to fight cancer. States must get money for cancer control. It behoves on women especially, the non-governmental organisations, to lobby the state assemblies.
"State governments should begin to plan for cancer control. In doing this, they are taking care of the health of the people."
She, however, appealed to corporate institutions to put the health of the people first before profit.
Earlier, Governor Ibikunle Amosun of Ogun State, while receiving the southern governors' wives in his Oke-Mosan office, called on Nigerians to shun divisive tendencies, but promote things that bind the country together.
Amosun noted that every Nigerian must rise above party affiliation, religion and ethnic sentiments and promote unity and peaceful coexistence.
While commending them for coming together despite their husbands' political differences, Amosun urged them to continue to learn from one another as they share experiences from their different states.
He underscored the important roles of women in the polity, adding that they are more in population and always coming out en masse to vote during every election.
The chairperson of the Forum, Mrs Nneoma Rochas-Okorocha, said the forum was initiated by the wife of the President, Hajia Aisha Buhari.
She said the position of women was key in the society, noting that if a woman got it right, the home, community, state and the nation would get it right.
While she described women as those who nurture things in their care, she argued that whatever is not nurtured would die.