By Grace Udofia
Abuja – As part of efforts to ensure peace in the oil rich Niger Delta region, the Federal Government has empowered not less than 40 ex- agitators, who recently concluded their vocational training under the Presidential Amnesty Programme in Rivers State.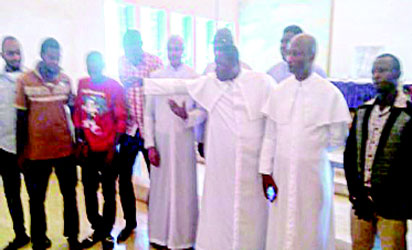 Also, the government had deployed the first tranche of 100 delegates from a total number of 1000 for training at the International Institute of Tourism and Hospitality in Yenogoa, Bayelsa State.
Vanguard gathered that the training is projected to explore the diverse business opportunities inherent in the rich cultural heritage of African societies with a particular emphasis on the peculiarity of the Niger Delta eco-system for tourism.
Speaking shortly after commissioning of some fish farms and commodity shops in Okrika, Rivers State, The Special Adviser to the President on Niger Delta and Coordinator of the Presidential Amnesty Programme, Brig Gen. Paul Boroh, said the government remains focused on its part in helping young people develop skills to start small and medium scale enterprises.
He said this would help them find their foot at the teething stage of businesses, describing the empowerment initiative under the Amnesty Office as a unique complement to consolidate the overall development of affected delegates.
The Coordinator revealed that thousands of delegates have already been empowered with start-up kits to open new businesses which are duly registered at the Corporate Affairs Commission, CAC, with a promise to empower more in 2017.
On the Tourism development in Niger Delta region, Boroh who officially flagged off the training exercise in Yenogoa, described the training as a good example of applying home-grown technique to develop the human capacity needed for the sector.
He was quite emphatic on the immense opportunities in Tourism in Nigeria and the need for growing a breed of core professionals in the hospitality sector.
"As the Niger Delta region continues to grow and expand, the corresponding influx of people and rise in population makes tourism and the hospitality business a prime money making machine," Boro said.
In his remarks, the Commissioner for Tourism and Development in Bayelsa State, Hon. Ebiere Irene Musa called on the former agitators and beneficiaries to embrace the training with commitment, focus and strong zeal to succeed.
She expressed optimism over the fate of successful trainees explaining that Nigeria is replete with abundant opportunities for them to ply their trade.
The Rector of the International Institute of Tourism and Hospitality, Mr Samuel Timi reiterated the institute readiness to deliver on its mandate to produce professionals capable of making Nigeria a reference point in the business of Tourism and hospitality.