By Gloria Orogun
PATIENCE Frederick Udoh, a 47 years old female who is known to be hypertensive for  five years  was recently diagnosed with advanced chronic kidney disease (Stage 5) in November, 2016.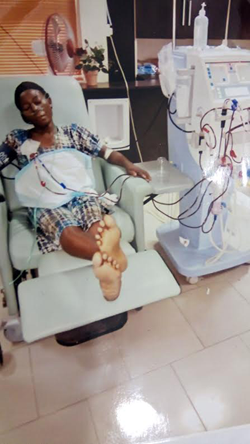 She commenced on twice weekly maintenance haemodialysis and has remained on dialysis to date.
Patience requires a kidney transplant which is estimated to cost N8,500,000.
The sum covers the pre-transplant work for donor and recipient, transplant surgery and immediate post-transplant care for donor and recipient.
Patience will also require additional funds for lifelong immunosuppressive therapy to prevent transplant rejection.
If you wish to help kindly send your donation to Patience Fredrick, UBA Plc, Acct No. 2095164342, or call  08020746624.