The Managing Director of DeepWater Petroleum Limited, Mr Richard Kennedy says the main philosophy behind his company's donation of 33 science laboratories to schools in different states of Nigeria including the Federal Capital Territory, Abuja was to improve on the poor students' performance in  sciences experienced during the 2016 West African Examination Council (WAEC).
Mr Kennedy made  this known Friday while commissioning and handing over a modern science laboratory complex at the Comprehensive Secondary School, Udi Abia, in Udi Local Government Area of Enugu State.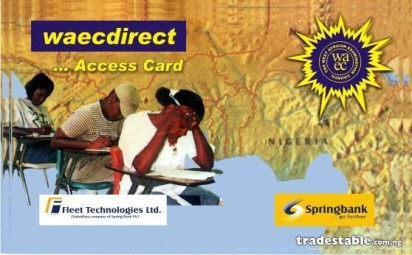 He said that statistics from the 2016 WAEC results showed that only 52.9 per cent of the total number of candidates obtained five credits and above including Mathematics, which, he said, was the bedrock of science education.
He said that although the 2016 figure was an increase from the 38.68 per cent recorded  in 2015 WAEC exams, yet it was far below expectation.
Stressing that the Agbami co-ventures  comprising Famfa Oil Limited, Nigeria National Petroleum Corporation (NNPC), Statoil Nigeria Limited, and Petroleo Brasileiro Nigeria Limited, recognised the "importance of science education as a catalyst for unlocking the technological advancement of a country and elevation of nations."
Represented on the occasion by the company's Community Engagement Advisor, Mr Mike Kabi, Kennedy said that the science laboratory was fully furnished with modern science tools and gadgets that would enhance teaching and knowledge acquisition for both teachers and students, noting that between 2008 and 2015, DeepWater Petroleum, a Chevron company alongside its co-ventures in the Agbami field have donated a total of 33 science laboratories including the one built at Udi Abia.
He said that Agbami co-ventures also had footprints around Education and Heath in Enugu State, adding that about 277 indigenes of the state had earlier benefited from the Agbami scholarship programme aimed at Medical, Nursing, Laboratory Sciences and Engineering Students (AMEPS) since its inception in 2009 to date.
"Similarly, the co-ventures built, equipped and donated a chest clinic at Ogurute district Hospital, Enugu-Ezike.
In his address, the State Governor, Chief Ifeanyi Ugwuanyi appealed to coporate organisations to emulate the Agbami co-ventures in providing science equipment and facilities to enhance the teaching and learning of sciences in schools, noting that government alone could not do it.
Ugwuanyi described the Agbami gesture as a major compliment to the efforts of the state government towards improvement in science education.
"We believe that any exposure of our children to enhance knowledge, will be to their benefit and interests," said Ugwuanyi who was represented on the occasion by his deputy, Mrs Cecilia Ezeilo.