Commissioner for Commerce and Industry in Delta State,  Mrs May Iyasere, has again commended the visionary leadership of the state governor, Dr. Ifeanyi Okowa.
She made the commendation when she received the newly appointed Executive Assistant on Communication to the Governor, Dr.  Fred Oghenesivbe, in her office.
She said: "Our governor is blessed with inestimable divine wisdom rooted in his Christian faith which is why this administration is making steady progress, the economic recession notwithstanding.  His Excellency has favoured the three senatorial districts viewed from the balanced political appointments and spread of infrastructure and socio-economic development. We must, therefore, stand firm with the governor for his re-election in 2019.
" You must do the needful to justify your appointment and by extension get deeply involved in party politics and grassroots mobilization for our great party and the governor."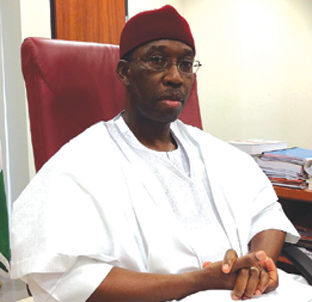 "The prosperity mantra of this administration is the joint responsibility of those of us driving the agenda with the governor and must not be found wanting. Be in the forefront of party politics and the governor's political agenda, at all times.
"I therefore, urge you to join hands with the rest of us in Ethiope East and Delta Central to empower our people. Whatever you contribute to uplift the living standard and economic status of our people reflects on the good governance initiatives of the governor.
"Our people in Agbon Kingdom, Ethiope East and Delta Central are grateful to God and Governor Okowa for appointing you as his Executive Assistant  (Communications).
"You have worked so hard to build an enviable career in media politics and it's time for you to deploy your political communication skills in serving the governor, the state government and our great party, the PDP and as a Lawyer, your service to Delta State must bring honour to the legal profession."
Oghenesivbe thanked the commissioner for her invaluable advise and promise to serve Governor Okowa and the government without blemish, adding that his appointment clearly revealed that the governor is a genuine and caring father to all irrespective of tribe or tongue.
"I am humbled by this appointment for so many reasons, some of which are known to Deltans particularly my past confrontational political activism through media politics during my brief stay in the opposition before returning to our great party, PDP.
"It is indeed very obvious that the governor has a large heart and uncommon deep foresight grounded and rooted in his broad knowledge of politics and proactive leadership.
"A big thank you to our party leaders in Delta Central especially Senator Ighoyota Amori, my friend and brother  Hilary Ibegbulem (Principal Secretary to the Governor of Delta State) and all of you who endorsed my appointment. I am indeed very grateful and may God bless you bountifully in return.
"I recall my early days in Benin City, Edo State as a young man and how you patronized and encouraged me to be focused in media practice. You are indeed a woman in a man's world, a blessing to Urhobo Nation, Delta State and to the world.
"You have been a big sister to me for nearly three decades and still counting. You are now also one of my political leaders in the state and that to me is a double blessing in my political career, going forward."