•If anybody could see the future I don't think Obi would have ever become governor at all for one day
•President Obasanjo didn't want the party led by Ojukwu to succeed
•Obi said he had N200m to run for the governorship election; I told him it was huge but not enough to fight PDP in Anambra. He said he had a sponsor and we went to work'
By Emeka Mamah
Former APGA Chairman, Victor Umeh gives insight into emergence of Obi   as governor, APGA crisis, Chekwas Okorie's runs with Ngige, Obi's plots within the party that made him.
We had thought that APGA would be a party for the people of the South East but for over 10 years now, it has remained an Anambra State party. Why is it so?
Well, APGA was registered for all Nigerians and the registration was initiated from the South East but other Nigerians were involved along the line. So, the party was registered as a national party and at take- off, Imo State had an advantage over the others.
The party went to its first election in 2003. All the states in Igbo land for example participated in that election at the same time. What happened during that election across the south east zone of Nigeria was that APGA was supported by the electorate. APGA was voted for by the electorate because the membership of the party at the time gave our people hope that the party would represent their interests very well,   particularly as Dim Emeka Ojukwu was the first presidential candidate of the party in that 2003 general elections. So, to that extent we went into the election under the same template.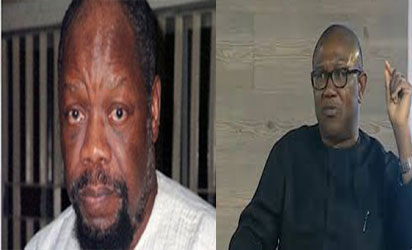 When the results came out, all the victories recorded by APGA candidates and the party across the south east were taken away through a brazen electoral rigging and banditry that hitherto had not been witnessed in any part of Nigeria. The reason was very simple.  The then President Olusegun Obasanjo did not want APGA being driven by Ojukwu to succeed, so, in an open rape of democracy, the victories of all the APGA candidates across the south east were taken away and it was only in Anambra and Imo States that we managed to record one House of Representatives victories each.
Anambra, had also one, House of Assembly victory during the declaration in an election where the party won everything landslide. We recorded a victory in Bayelsa State for House of Representatives seat but that candidate along the line lost at the tribunal, so from very huge electoral potential, the party suffered a very crushing short- change at the elections.
The next stage was to head to the tribunal as provided by the law. Across the south east we went to the tribunals, Anambra State became a pivotal case in the sense that some of us who were there and the candidates we had in that election were determined to fight that electoral robbery to a logical conclusion.
In Anambra State, I was the pillar of that struggle and the commissioned agent for APGA in the governorship election and I saw all that happened and was sure we won the election squarely and I decided to drive the election petition project. So in Enugu, Ugo Agballa and his group were there, in Imo and Abia States they were there. But, none of the states had the kind of force Anambra State had in prosecuting these petitions. I was the Prosecution Witness 1, PW1, in the election petitions tribunal. I was the first witness in the tribunal.   From my knowledge of what transpired during the preceding election, the National Assembly election which we won and they took away, I was able to prepare the party for the judicial challenge in the governorship election.
So we had collated all the polling booth results. They gave us all the polling booth results of the 12th  of April 2003 National Assembly elections but they changed the results during the collation stages and announced PDP candidates winners everywhere, so sensing they would do the same thing at the governorship we told them to go all out to collect the polling booth results, they should not fight with anybody. On the 19th of April the same thing happened, but our party agents collected the polling booth results given out by the electoral officials on the day of the election.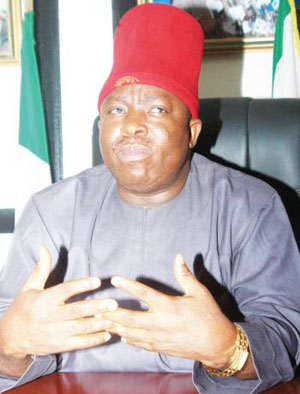 So, by the evening around 10 pm of that day our party agents and everybody headed to our collation centre where we asked them to bring the Form EC8A1s as they are called. EC81s are polling unit results,   so we went to the tribunal, made petitions and we went through trial. I was the Prosecution Witness One or PW1 and I was in the witness box for one month and I was able to tender all the results of the polling units of the governorship election that became the watershed in that exercise.
Except Anambra State, in most parts of the southeast, these polling booth results were not protected by our agents as they ought to do. So we had the result of the election intact and after a very long trial that lasted for nearly three years, we were able to win at the election petition tribunal. On August 12, 2005, the Election Petition Tribunal sitting at Awka determined that APGA and its candidate, Peter Obi won the governorship election. The People's Democratic Party, PDP, went on appeal with its candidate Dr Chris Ngige and on the 15th of March 2006 the Court of Appeal which was the final court for the governorship dismissed the appeal.
That paved the way for Mr. Peter Obi to be sworn in on the 17th of March 2006 as the executive governor of Anambra State. There's no doubt that where you are able to win a governorship seat, the party will have roots and of course the potential for growth. In the other states in the southeast, no governorship victory was retrieved from the tribunal. In Imo State, Dr Ezekiel Izuogu won landslide but they couldn't prosecute the petition. In Enugu State, it was the same thing; they couldn't prosecute the petition with the available evidence. Tribunals are not places you go to with cock and bull stories; because you must show with documents that you won.
When you have the polling booth results in any election, you can at any time tally the figures and determine who won. So we had these things and guarded them jealously and used them at the tribunal and we got the victory and because we had the governorship of Anambra State, we were able to sustain our grip on that state.
There were too many challenges but we were able to weather through the challenges hence APGA has remained in Anambra State as the ruling party since 2006; so that's it. It wasn't as if APGA grew in Anambra State and somebody made it not to grow in other states in the southeast. It was because of the aggregate efforts of the stakeholders in Anambra State. With sheer determination and guts we fought to reclaim the mandate which was taken away.
In Abia, we did not win. Theodore Orji defected from the PPA to APGA but it was for a while; about a month and he ran away again back to PDP. He couldn't stay. He didn't have the self-confidence needed to remain in APGA. One thing is that APGA being a party that has good will among the Igbo people had always remained a threat to the ruling party at the centre at the time and all the arsenals were unleashed against the members of the party and its candidates during election with federal might. So, Orji came in 2010, ahead of the elections in 2011, when he disagreed with his major stakeholder in PPA. He came in and within a short time, those at the centre of government mounted pressure on him not to stay in APGA and he ran away and joined PDP so that was what happened in the case of Abia.
HOW DID THE PROBLEM IN APGA START BECAUSE THAT IS WHAT HAS STUNTED ITS GROWTH
If we had yielded to that electoral banditry, APGA wouldn't have been in existence anymore and we wouldn't have been talking about APGA today. The crisis crept into the party during our stout resistance to compromise at the tribunal to reclaim that governorship mandate at the time. During the proceedings at the election petition tribunal at Awka the stories that were coming out were such that Nigerians came to agree and believe genuinely that APGA won that election.
When I was tendering the results of that poll ward by ward, local government by local government these things were being posted in the newspapers. The cross examinations and all the things that took place were hugely reported in the national dailies so everybody was sure that APGA won the election and that it was now a matter of proving to the tribunal with available records that we won to enable us get the mandate back.
While we were doing that, the then governor, Dr Ngige, became jittery because on daily basis the events at the tribunal were pointing to an exit for him; it was becoming glaring that he would be sent out of power, so he started doing things that would enable him consolidate and stay in power and frustrate our petition at the tribunal.
He tried to reach out to me because I was the anchor of that effort at the tribunal and I resisted his attempts to compromise me. When he saw that I was unyielding, he turned to the then National Chairman of APGA, Chief Chekwas Okorie and Chekwas entered into a deal with him to sabotage our efforts and that was exactly what he did. Chekwas started taking steps to annihilate the party members in the state most of them, who had been to the tribunal to testify in favour of the party and so on.
While we were doing all these, he dissolved the state's executive committee of APGA in his parlour in Enugu and appointed a caretaker to oversee its affairs. He gave them the mandate to restructure the party in Anambra State. He appointed his associate the chairman of the caretaker committee and when the committee went to Anambra to declare its mandate to overhaul the structures of the party, they descended on the local government party chairmen that testified for the party at the tribunal; sacked most of them, so the party went into turmoil. By then we weren't suspecting anything or that there was a deal behind us.
As we were resisting these efforts, he summoned me and our then governorship candidate, Peter Obi to the National Working Committee, NWC, of the party for disciplinary action because we were resisting his tampering with the structure of the party that was prosecuting the case. And because he had given the undertaking that he would undermine our efforts he was very unyielding and on the 23rd of November 2004 he summoned us to the NWC.
So, at the NWC, I told our colleagues that the party had no problem other than that the  Chekwas was interfering in a negative manner in the affairs of the party. He was sacking people who were busy working hard at the court to recover our mandate.  Obi gave his own account because in the letter with which he summoned us he asked us to come and show cause why two of us would not be sacked from the party. We gave these accounts and the thing opened the eyes of our colleagues in the NWC who were then afraid of daring Chekwas in any event. I told Chekwas to his face that he was not running the party in accordance with the constitution and that he was causing the problem we are having in Anambra and that   it was better for him to retrace his steps and align himself by exercising the powers conferred on him by the constitution. That emboldened members of NWC. At the end, the meeting resolved that a three man panel should be sent to Anambra on a fact finding mission on why the party was engulfed in crisis.
The National Secretary of the party, Alhaji Sani Shinkafi was made chairman of the panel with the National Organising Secretary, Dr Innocent Ekwu from Rivers State, and the National Youth Leader, Dr Mike Adams, as members. The trio came to Anambra State on September 11, 2004 to meet with the party people.   Peter Obi, my humble self and other members were there.
Tim Menakaya was there; he also spoke and we finished and left but there were attempts to attack us with thugs but we arranged for police protection and left for Enugu in the evening. I left with Peter Obi and Menakaya, but around 10 pm I got a call from Shinkafi that the hotel where they were staying had been besieged by officers of Ngige's government led by his principal secretary.
They came there and Chekwas called the panel members and told them that the following morning they would go to Government House, Awka, to pay a courtesy call on Dr Ngige who would take them on a tour of some of the projects he was doing and after the project tour, they would address a press conference endorsing his government.  This was at the peak of our efforts at the election petition tribunal. Shinkafi told me that this was what was going on and asked if there was anything we could do. He said he wanted to consult me first since I was the one who was very vocal at the meeting in Abuja where the panel was set up. I told him not to do any of such thing. By then, Chekwas had drafted his aides to the hotel who wrote the address which Shinkafi would read to Ngige in the morning.
They prepared the speech and brought to him so we were talking and I told Peter Obi and Menekaya what was happening so we knew that if they were forced to go to Ngige that morning as arranged, it would be a big setback for the party. Chekwas called them and told them that the hotel rooms they were staying in had been paid for by Ngige and that he would take care of them by the time they saw him in the morning so that was a very hard situation.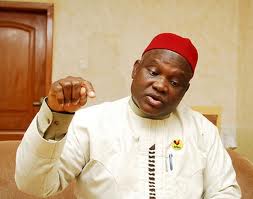 I spoke with Dr Ekwu and Mike Adams and we agreed that they would not go there. The problem now became how to rescue them from the hotel because all the government officials and Chekwas' personal aides were there giving him reports of what was happening. I now told Menakaya and Peter Obi that the best thing was be to bring them out of that hotel so they gave me their room numbers and I told them to prepare that by 4:30am two vehicles would be there to bring them to Enugu.
They agreed, relaxed with them and the time they went to their rooms and slept we dispatched two cars around 3am to Awka with policemen. I was coordinating their movement with Shinkafi so when they got there and tapped on his door, they had packed their items so they came out of the hotel and entered the two vehicles and they were brought to Enugu before 6am.
They returned to us at Zodiac Hotel where myself, Menakaya and Peter Obi were waiting and we took them away. So by daybreak the governor's officials came to take them to the government lodge and to Chekaws' aides it became like the way Jesus Christ was not found at the tomb on the Easter Sunday. So, that was what happened. Ojukwu had gone on a trip to the United States and had only returned that weekend, so we made appointment for them to go and see Ikemba later that morning.
Three of them went to Ojukwu's residence and gave him first hand briefing on what transpired. So, when they couldn't find the three persons sent by the party to Anambra State, Chekwas started calling and threatening fire and brimstone.
He called Menakaya and told him to tell me that he would sack me from the party and that I was the mastermind of the panellists escape from Awka. The sole reason for our disagreement with Chekwas was his open sabotage of our efforts at the tribunal. Chekwas told Shinkafi and his colleagues that no governor had been removed in Nigeria through election petition. He was right. Before that time, no governor had been removed through election petition in Nigeria. So he told them that it was a waste of time that the best thing was to surrender at the tribunal so that over time they would work with Ngige by possibly collaborating with him.
These were the stories they told our revered Ikemba so it wasn't fiction anymore. By evening of same day, myself, Peter Obi and the three panel members met with about two other members of NWC from this part of the country at a hotel in Enugu and agreed that we shall resist this attempt by Chekwas. By then the NWC had on 23rd November scheduled 15th December 2004 for reports of their findings during the visitation in Anambra State. So it was at that time that we said we shall resist any effort by Chekwas to do anything that would be unacceptable and if he went beyond that we would make efforts to relieve him of his position as national chairman so that the effort the party was making would be sustained.
It was Peter Obi that said that if we sacked Chekwas and failed in the bid, we should all go to another party by the time we finished the judicial processes. I had to bring this in because along the line, he pretended not to know what happened. So, I took my colleagues from Enugu and we boarded the plane and went to Abuja. After meeting with Ojukwu, he expressed his dissatisfaction with all that. When we got to the party secretariat on the morning of 15th December 2004, Chekwas had locked the place.
When we asked the security man, he said that Chekwas had gone to Sokoto to visit Governor Bafarawa with the then Deputy National Chairman, South, Maxi Okwu. That was the day people expected the members of the panel to report to the NWC so our members who were around decided to proceed with the meeting but we moved to another venue since the secretariat was under lock and key. We held our meeting, and suspended Chekwas with his two deputies.   We were 17 members of the NWC but in that meeting, we were eight, so we were more than 50 percent and the quorum was about one third. When we suspended him on 15th, he came back on the 16th  and held his own meeting.
They were four people in that meeting and so couldn't form a quorum. But because he felt he owned the party, he suspended all of us and we said very fine. We scheduled another meeting for 30th December and on that day, we had a full house because everybody was angry with what he wanted to do. We were about 12 in that meeting and we reinforced the decisions we took on the 15th and scheduled another meeting for 11th January 2005. At that NEC meeting, all the state chairmen of the party attended and Ojukwu sent two observers, Colonel Joe Achuzia and Prince Richard Ozobu to know the strength we had.
At that meeting in Abuja, we sacked Chekwas from the party along with his deputies and appointed Ojukwu, chairman, Board of Trustees and leader of the party and put in some interim members of the board of trustees. Dr Menakaya and Ambassador Godwin Onyegbula who was Ojukwu's ambassador in Biafra was among and Ojukwu recommended him. So, when we met in court, the judge said they had made more progress than us in the processes they filed and therefore, the court, witnesses were called, documents were tendered So many things including the fact that Chekwas was operating the party's account as the sole signatory to the exclusion of the treasurer and the national secretary featured.
Those things he denied before Ojukwu, we had to go through the Independent National Electoral Commission, INEC, to obtain those documents from the bank and made them available. We showed them to Ojukwu who saw that he was the only one signing but when Ojukwu asked him earlier, he said he was signing the cheques with me… Ojukwu then had to call a meeting at the Hotel Presidential in Enugu in February of that year and dissociated himself from Chekwas.
The matter went on and by June 28, 2005, the INEC, came out with a letter recognising the actions taken by the party upholding all those actions because they attended our NEC meeting and they observed it so they saw everything and they investigated everything.   So INEC endorsed the expulsion of Chekwas and recognised me as acting national chairman.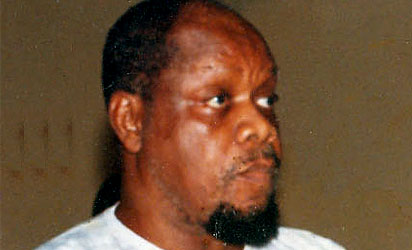 The action triggered litigation in courts but at the end of the day, on 16th April 2008, the High Court gave a final judgment and upheld the expulsion of Chekwas from the party with his two deputies Maxi Okwu and late Hassan Bello. Chekwas was on the side of all the opponents of the party because, when we took away our people from going to see Ngige, Chekwas took few followers to Ngige directly at the Governor's Lodge and told Ngige that APGA was no longer interested in the election petition mounted by Peter Obi and some delegates in the party. He described us as renegades.
He told him that they were declaring solidarity and support for his administration and asked him to join APGA instead of remaining in PDP. Ngige, a wise man, told him that in the PDP, there were hippopotamuses and he was not sure of what he would meet in APGA if he came over and preferred to wait for a while.
So he turned down the offer. Chekwas was very unyielding, he mounted a parallel structure and along the line, the authorities started siding him because we were the authentic people who had the interest of the party at heart, we had the governor and our opponents in the PDP started aiding him and along the line, INEC reverted to him as the national chairman despite a subsisting court judgment. That was what triggered the disagreement between me and Morris Iwu and the rest of us and I had to drag him to court. He was aiding Chekwas. During the election, he said Chekwas was going to submit names of the party's candidates.
We had to use the court to stop him and Obi was able to go for a second term and while we were doing that campaign, there was noise everywhere. APGA was very unstable because of the activities of Chekwas Okorie but on the 13th of January 2010, few weeks to the governorship election, the Court of Appeal delivered judgment in his own appeal challenging his expulsion from the party. The court dismissed his appeal so we went into that election with all the things we could muster and that was the last effort Ojukwu made for the party and we were able to win a second term for Peter Obi on the 6th of February 2010.
Obi was sworn in for a second term but Chekwas continued and as they say, it is politics so along the line the same Peter Obi said he didn't know why Chekwas was quarrelling with me, you know! So, look at it from what I told you from the beginning but its politics so at that time I had disagreed with him (Peter Obi).   I asked him to conduct the local government election in Anambra State so that our party members can have the grass root grip in the state.
He didn't want to conduct that election so we disagreed and he started wanting to push me out as the national chairman because he wasn't going for a third term. That was his final term so it was convenient for him to do away with me. He had advisers who told him to clip my wings because I was the only one that could insist that he should do what he wouldn't want to do, conduct local government election… Obi started fighting me and meeting with Chekwas Okorie again but on 25th of March 2011, Okorie's appeal at the Supreme Court was dismissed. That brought a final seal to Okorie's claim to APGA.
Along the line in 2009 he had a convention which Morris Iwu aided and I had to stop the convention with a court order a day to that convention on September 2, 2009. Somebody who was expelled from the party and the High Court had affirmed his expulsion could not act as chairman of APGA again to convene a convention. The Federal High Court agreed with me and stopped that convention with an exparte order. At that convention they expelled me from the party, they expelled Peter Obi the governor of Anambra state from the party and so on and so forth and he continued with that case at the Federal High Court until January 12, 2012 when the Federal High Court dismissed his suit. As soon as that happened, Chekwas surrendered and went away to float a new political party so that is the story of how we got to that point.
So, Peter Obi was with you and at a point, he supported Chief Maxi Okwu as National Chairman before he came back to you again?
Peter is my brother and he came to me in Enugu to tell me he wanted to become Governor of Anambra State and that Prof ABC Nwosu had asked him to come and see me in Enugu to see if I would agree to work with him and that if I agreed to work with him, that he would go far in his bid. ABC had to do that because I was one of his strong people when he ran for governor in Anambra state through the PDP.
He won the primary but he was denied the ticket of PDP and Mbadinuju moved in. Because of what they did to ABC Nwosu I was angry and refused to have anything to do with Mbadinuju's administration so by then efforts were already on for the 2003 governorship election so he told Obi to come and see me, that was in 2001 so he came to see me. Then ABC had become minister of Health so he came to see me in Enugu and I asked him questions after he told me his mission. I discovered that apart from the way he spoke passionately about the state he comes from the same neighbourhood with me. He hails from Agulu and I hail from Aguluzigbo.
These two communities are neighbours and they used to be one town in the past so it was welcoming to me that somebody I could say that is nearby wanted to be governor and what he presented to me was interesting. I asked him to come back after two weeks so I could make some consultations. When he came back after two weeks I asked him two questions. I asked him how much money he had to put in the election he said he could put in about N200 million and I told him that it was huge money then but not enough because I knew the way PDP operated in Anambra. There were so many money bags in the party and I asked if he had other supporters and he said yes one of his friends which I would not like to mention in this interview would support him with 30 percent of whatever the election would cost him.
I then asked him again how long he thought he could stay in the struggle because I foresaw a situation whereby we could win but would not be declared winner and there would be need for recourse to court actions. Will you stay in court? He said yes that as long as I was with him he would stay till the end and I said fine. That was what I wanted to hear and at that time I told him that PDP was the only party.
There was Alliance for Democracy, there was APP and I said PDP, you would not get ticket there but let's see what God would do for us as we go on. We were already working towards seeing if a party would be registered and at that time I was already working with Chekwas and members of the Igbo think tank founded by late Barrister Jacob Nwokolo. That think tank had people like Ike Ekweremadu, Prof Nebo, Dr Joe Nworgu, Prof Joe Irukwu and quite a number of serious minded people.
We had so many people and I was the one who brought Chekwas to that think tank because I discussed with him and he was talking about floating a party with Igboezue Cultural Association and in the Igbo think tank we were thinking of how to register a political party that would be different from the PDP. We were meeting every two weeks and the way we expanded our membership was anybody you met and the person was convinced with what we were doing we held that person to be a resource person, we brought him in.
So, I introduced Chekwas to Igbo think tank and he became a member. Along the line we carried the formation of the party to Engineer Chris Okoye's house in Enugu. We were meeting at Chris Okoye's house and it metamorphosed to Good Friday Conclave. We had the first there on a Good Friday and it was christened Good Friday Conclave and more people were brought in from even within the PDP. Finally in 2002 we were able to get APGA registered as a political party.
OBI UNFAIR TO APGA
That was how we moved on with Obi running for governor for us in Anambra State. So, to answer your question Obi was not fair to APGA and to some of us particularly myself because I took on him from zero to promote his governorship bid. I took him to virtually everybody that he came to know on this journey and because of that covenant we had that we would stay on till the end, I was the bulwark of his trouble to become governor both from the party and during the election and post election efforts that made me to defy all efforts to get me compromised. I never looked back and people were used to making huge monetary offers to me and I refused. Ngige tried himself and failed so I saw it as a mission.
One, I had great hope that APGA would play a very important role in the political life of our people.   I knew that if we had not recovered the governorship of Anambra State, the party would have died. So everything about that struggle you could see hovered around me with Ojukwu as my backbone. I was the field officer and Ojukwu was there giving me support to fight for these things to get Obi become governor. We did much to get him re-elected for a second term. He reneged on the agreement he had between me and Ojukwu that as soon as he got re-elected for a second term he would conduct local government elections.
The meeting took place in December 2009 and Chekwas, myself and Ojukwu and his wife were there. Among all things discussed, I gave one condition to Peter Obi. I said if you go to this second tern election and you win, you must conduct local government election immediately to keep our party people in government.
At that time PDP had 30 members in the House of Assembly through a tsunami they had in 2007 when there was no election and they wrote their names as winners; 30 of them. They had 10 members of the House of Reps in PDP and one in the labour party. Andy Ubah put that boy in the labour party to sabotage Chukwuma Soludo's nominee in the Aguata Federal Constituency who ran under the PDP.
We had three senators from PDP. APGA had nobody in both the state House of Assembly and the National Assembly. Then in the local government system, Obi did not have anybody not even a caretaker. He was running the local government with heads of services in the local government so at that time, government revolved around only Peter Obi as an APGA member. There was no other APGA member at any other level of government so I saw that as a way of ensuring that the party takes root at the grass root.
I said this and Ojukwu stood up and had a handshake with me and said this is the most important condition we are giving you. He accepted and said he would do that so we prepared and went on campaigns with him for a second term which Ojukwu had backed out of long ago because you would recall that at a stage he went to Awka and endorsed Emeka Etiaba for that office out of anger and I had to come in to manage the situation and resolve issues.
By the time we went for that election campaigning, I was flying around with Ojukwu in a helicopter because he was already frail. When we finished and won that election, on 17th March Obi was sworn in for a second term and on 26th March. Nine days after his inauguration, he sent his secretary to government and his commissioner for works to me here in Enugu. They told me that Peter told them to come and convince me that he wanted to put caretaker people in the local government so I told them I didn't agree.
I said, that was not what we agreed with him and he should go and schedule local government elections. I was opposed to his appointing people as caretaker committee members in the local government for the simple reason that the House of Assembly that would approve the caretaker committee members were PDP members.
Thirty of them including the speaker, so if you take such step, you will share the whole position with them unlike if you conducted local government elections as I reasoned that we had defeated PDP and ACN (led by Ngige then). If you conducted a local government election, nobody would rig us out because the election would be conducted by Anambra State Independent Electoral Commission that would be constituted by the government. So, I said I didn't agree and said that they should go and tell him so.
I had to travel to Dubai few days later and by the time I came back on the 8th of April, he had employed his uncle to start disparaging me and Ojukwu too. They started circulating malicious documents against me that I was embezzling party funds, this and that, telling all kinds of negative stories about me and I laughed. Some of those publications are still there.
They are for record purposes. The uncle said that I was running the party aground; somebody who just came out of a tough election, delivering Peter Obi as new governor for second term. I was accused of mismanaging the party. Then he stated again that those who claim that they played pivotal roles to Peter Obi becoming victorious at the poll also lost their wards because tragically Ojukwu's ward was taken by ACN.
They rigged the election there and changed the results so Ojukwu did not win so his uncle put it in the paper he was circulating. When I came back from Dubai I was confronted with the scenario. I went to  Ezeigbo  Ojukwu and said look at what these people are circulating. He said they were talking to me that I was the one who lost my ward purportedly; that it was terrible so we disagreed and I stayed away from government for two months.
I didn't get near him until Ojukwu invited us on 30th of May to his home- myself, Peter Obi and a few people and he told him that he would slap him if he did not fix a date for local government elections immediately as that was an agreement we had with him in December 2009 as a pre-condition for supporting him for a second term.
That he must go and do that so that's how it happened and he went and constituted the Anambra State Independent Electoral Commission, ANSIEC, and on July 1, 2010 the new chairman of ANSIEC announced the date and time table for the elections on 4th December, 2010. Unfortunately when we got closer, Obi said that the voters' register was faulty and that Jega who had taken over had promised to revise the register adding that this would be immediately after the 2011.
That was around October and we had no option because he said Ngige was challenging his election based on the voters register; that he would not use it to conduct local government elections. Smart enough, new voters register would come out first quarter of 2011 so we agreed that immediately after the 2011 general elections, the voters register would be made available to all the state electoral commissions and they would now use it to conduct local government elections. That was the arrangement then and we called off the local government election in November when steps had been taken, parties had started nominating their candidates.
We had sold forms to people who wanted to take part in that election of December 4th and we called it off, postponed it to await the new voters register. Unfortunately for me, December 1, Ojukwu had stroke and by 23rd of December 2010, he was taken to England where he stayed till he died on 26th November 2011. So, in his absence Obi became stronger against me and he continued his manoeuvres to get me out as chairman of APGA. I continued to hold forth because by that 2011, I went over to Imo state to work hard to get Rochas Okorocha elected as APGA governor of   Imo State, so we now had two governors but Obi went into alliance with Okorocha to start fighting me because of this local government thing.
The cold war continued because I held firm. He couldn't remove me and by the time Ojukwu died and we buried him on 3rd March, 2012, Peter Obi re-launched his efforts to get me removed as chairman of APGA and in the process as the only governor because Okorocha withdrew from him and I stayed with Okorocha and for the remainder of 2012 I was with Okorocha. Peter Obi was fighting all of us together and by 2013 he had already procured a judgment from the former Chief Judge of Enugu State sacking me and my leadership on the 8th of February 2013. As faith would have it as well, on 3rd of February 2013 I had my last meeting with Okorocha over this merger issue of taking APGA to other political parties. I was opposed to it because I knew the challenges our people were facing.
I felt that APGA should remain. By the time we had that meeting on February 3, Okorocha, myself, Martin Argbaso, Anni Okonkwo, Dr Chris Ngige, I told him there that we would not be part of that merger and when they insisted, I left Okorocha that night by 11pm with my people and came back to Enugu. That was the last time I ever went there again. So I was alone. Okorocha went to Lagos on 5th February, 2013 to join ACN governors to announce their proposed merger to form a new political party. The name hadn't come out by then so they were shown on Channels Television on 5th February. On 8th February Justice Umezulike sacked my leadership of APGA so it became a very torturous and very challenging time for me.
I held onto the party and some people like Ifeanyi Ubah joined me. He gave us a lot of support to be able to weather the shocks and the frills of the destabilization that we suffered and I was able to get to the Court of Appeal. By then Peter Obi had brought in Maxi Okwu to become the new national chairman. When the judgment was delivered on 8th of February 2013, eight days after that, he convened a meeting of what he called national caucus in Abuja and they made Maxi Okwu acting national chairman of the party. National Caucus of APGA had no such role in the party's constitution.
I laughed at them and continued with the people who were with me; Shinkafi my long ally. So we stayed together and we went to the Court of Appeal and on the 8th of April the Court of Appeal seating in Enugu here granted me stay of execution of Umezulike's judgment but because the matter had been argued on the 25th of March and adjourned for ruling to 8th of April Obi made frantic efforts in support of the Federal Government then and got INEC to send observers to his purported convention which he held in the midnight of 7th April being a Sunday in Awka and announced that Maxi Okwu had become the national chairman of the party but then in the morning by 9am the Court of Appeal sat and delivered this ruling   and granted a stay of execution of that judgment. We fought on and on and finally they had the main Appeal on 15th July 2013 and set aside Umezurike's judgment and that was the time it was difficult for him to do anything because the governorship election of Anambra State was at hand.
He had to come back to beg for forgiveness and I forgave him based on the intervention of very important people in the state. I forgave him, we patched our home and went for the election and Obiano won the election and became governor. We marketed the candidates through an arrangement that was the only thing acceptable at that time because the party was polarised into two parts; Peter Obi's faction and Victor Umeh's faction. Even though I won, I had to make some sacrifices for unity to prevail for us to go to that election. We went to that election and won. True to his character which I would use to answer your question that led me on this long journey… When we nominated Obiano as our candidate, Obi again sponsored another suit at the Federal High Court Abuja against me with Maxi Okwu and his group. So while I was busy doing the campaign, he was financing an action against me that if we finished the election he would push me out again as the National Chairman. God was watching all of this so when we won the election 15th January 2014 that court in Abuja delivered its judgment and said Maxi Okwu was the national chairman again and my leadership was sacked.
I had to return to the Court of Appeal Abuja division and on the 18th of June 2014, that judgment of Justice Abdul Kafarati of the Federal High Court, Abuja was set aside again. That was the one they took to the Supreme Court that was dismissed on 15th January, 2016. In answer to your question on what Obi had done, I never imagined it.
One thing is that God must be revered by every creature. God did something that is very critical to human existence and that is blocking our view of the future from the present day. You can make forecasts, make predictions but you can never foresee anything; only God knows what tomorrow would be. If anybody could see the future I don't think Obi would have ever become governor at all for one day. I never knew that he would turn to do all that he had done today.  I never knew that he would ever leave APGA to another party. I never knew that he could raise a finger against me, Victor Umeh for all that I did to save him several times; making sure that he became APGA candidate in 2003 to contest that election