By IIke Uchechukwu
CALABAR —Head of Service of the Federation, Mrs. Winifred Oyo-Ita, has called for the sanctioning of Port Harcourt Electricity Distribution Company, PHEDC, and its subsidiaries for negligence that led to the death of football fans on April 20,  at 45 Nsaha Effiom Street, Nyaysang, Calabar, Cross River State.
Oyo-Ita, who made the call during her visit to survivors of the Nyahasang viewing centre tragedy at University of Calabar Teaching Hospital, UCTH, yesterday, said it was high time service and utility providers who fail in their responsibilities are brought to book.
Her words: "Utility and service providers have to be more efficient in the way they provide services to the public. PHEDC and other subsidiaries have a lot of work to do by ensuring they carry out their services with due diligence.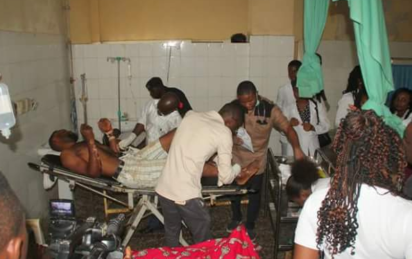 "This is a call on electricity and utility providers to be extremely careful. There should also be sanctions, they should be brought to book where and when they fail."
The HosF lauded the state governor, Prof. Ben Ayade, for paying medical bills of the survivors and  sponsoring one of them abroad for further medical attention.
She also commended the hospital management for their expertise, professionalism and dedication to work, which has led to the quick recovery of many of the survivors within a very short period of time.
"I really commend Governor Ayade for his magnanimity. The Chief Medical Director and his management team as well as plastic surgeons, nurses, clinical staff, I have seen the commitment and dedication they have exhibited towards making the survivors comfortable within the period of their stay in the hospital," she said.
Also speaking, Chief Medical Director of UCTH, Prof. Thomas Agan, called on well meaning Nigerians to support the survivors of the tragedy while calling for more funds for the upgrading of the hospital.