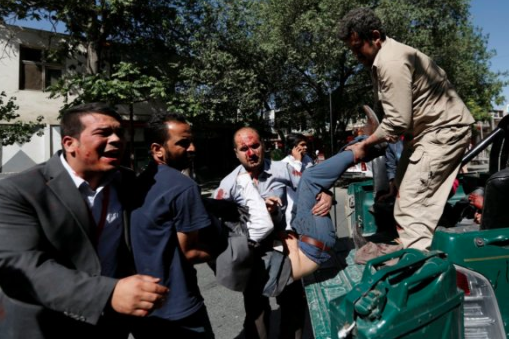 Kabul car bombing: one of the injured being carried to hospital
Brussels – One BBC employee has been killed and four journalists injured in the bomb attack in Kabul, the broadcaster confirmed.
"It is with great sadness that the BBC can confirm the death of BBC Afghan driver Mohammed Nazir following the vehicle bomb in Kabul earlier today, as he was driving journalist colleagues to the office," Francesca Unsworth, the BBC World Service Director, said in a statement.
"Four BBC journalists were also injured and were treated in hospital. Their injuries are not thought to be life threatening," Unsworth said.
"Mohammed Nazir worked as a driver for the BBC Afghan service for more than four years and was a popular colleague.
He was in his late thirties and he leaves a young family," she added.
"This is a devastating loss to the BBC and to Mohammed Nazir's friends and family. We are doing all we can to support them and the rest of the team in Kabul."
A tanker truck bombing in central Kabul killed at least 64 civilians on Wednesday, the Afghan Interior Ministry said, as officials fear the death toll could rise further.
The ministry said three hundred and twenty others were wounded and 50 vehicles destroyed.
Wahidullah Majroh, a spokesman for the Public Health Ministry, said however that 80 people were dead and 350 others wounded.
Little is left of the vehicle, either a water or human waste taker, that was used for the bombing, said Najib Danish, a spokesman for the Interior Ministry.
Fifty vehicles were also destroyed in the blast in the Afghan capital's central Zanbaq Square, according to the ministry.
Zanbaq Square is near many government buildings and foreign embassies, including the presidential palace, the chief executive office, the German embassy and the Indian embassy, among others.
The German Embassy was severely damaged in the blast, as pictures from the location show.
Afghan President Ashraf Ghani condemned, "the cowardly attack in the holy month of Ramadan targeting innocent civilians in their daily life."
Afghan Chief Executive Abdullah Abdullah wrote on Twitter that he strongly condemned "the terrorist attack in Kabul" and said he stands "in solidarity with the victim families."
Neighbouring Pakistan condemned the attack in a statement from the Foreign Ministry. "We firmly stand with our Afghan brothers in this hour of grief and anguish," it said.
No group has claimed responsibility for the attack yet.
The Taliban has denied involvement.
Emergency, an Italian NGO that operates a hospital near the site of the blast, wrote on Twitter that the explosion "was so big our hospital got damaged," but said their "staff is well and working to treat the wounded arriving from the blast."
"By God's grace, Indian Embassy staff are safe in the massive Kabul blast," Indian Foreign Minister Sushma Swaraj wrote on Twitter.
The U.S. Embassy in Kabul, located near the blast site, advised its citizens to avoid travelling in the area and cancelled its appointments for the day.(dpa/NAN)