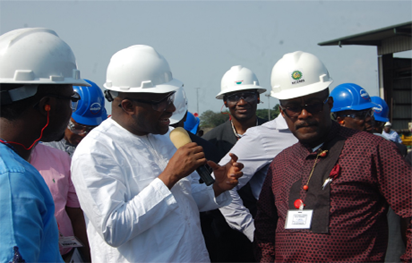 VISIT: From left Mr Femi Omotayo MD AOS Orwell, Mr Omozaphue Akalumhe EDHR AOS Orwell (Middle) and Engr Kesiye Wabote Executive Secretary Nigerian Content Development Management Board (NCDMB) on a facility visit to AOS Orwell, Titan Tubular Facility at Onne, Port Harcourt
Nigerian Indigenous oilfield services company AOS Orwell has won the 2017 Shell overall Safety Award for Wells at the Shell Leaders and Chief Executive Officers Health Safety and Environment Conference in Lagos.
According to AOS Orwell HSE Head, Mr Benedict Akogo, "AOS Orwell won the award for demonstrating visible and outstanding safety leadership and care for people."
The award was presented to the company's Managing Director, Mr. Femi Omotayo by Shell Executive Vice President (Nigeria and Gabon) Mr. Peter Costello.
AOS Orwell had won the SPDC Wells five years Lost Time Injury free Award in December 2016.