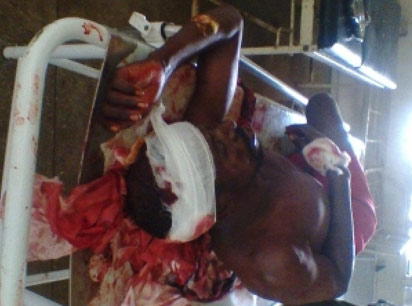 A survivor from the early morning attack
By Ben Agande, with agency report
THREE persons were feared dead and several others injured in clashes by youths in the Kabala West Nariya and Umuazu communities of Kaduna State.
This is just as the state government, yesterday, said 18 suspects have been arrested in connection with the unrest.
An eyewitness told an online medium that before yesterday morning's attack, three bodies were found in the affected areas, and by 5a.m., some gangs had gathered for reprisal attack.
The eyewitness said: "Where Christian youths are more, they are attacking Muslims, and Muslims are doing same in areas they dominate. Many travellers could not pass through the Eastern By-Pass, especially those going to Abuja and passing through Kaduna to the airport."
Govt reacts
Meanwhile, a statement by the Senior Special Assistant to the Governor on Media and Publicity, Samuel Aruwan, said the situation was under control, adding that those arrested were suspected of being involved in the crisis.
The statement also dismissed stories on social media that the crisis had escalated to other parts of Kaduna town, leading deaths and injuries. He warned those peddling such stories to desist of face the consequences.
Dialogue
The statement said government had sent a high-powered delegation, led by Acting Secretary to the State Government, Special Adviser on Internal Security and the Special Assistant Media and Publicity, to the communities.
According to the statement, the delegation met with the leaderships of Christian Association of Nigeria, CAN; Jama'atu Nasril Islam, JNI, youth leaders, security agencies and traditional rulers of the two communities.
At the end of the meeting, the two sides agreed that all those responsible for the unrest should be fished out and brought to justice.
The attack
Abdulazeez Salisu, a local chief and Sarkin Aruwan Ungwan Muazu, said that some traders at Kabala West were attacked on their way back to their residences at Ungwan Muazu.
He noted that "I was alerted late Sunday night on phone. We tried to alert the authorities concerned. The Kabal West community leaders know those culprits, yet no action was taken against them.
"That is why we have the unrest today (yesterday). But, we are satisfied with the action taken by law enforcement agents.
"We were told that three people were killed, but we cannot ascertain the death until after investigation."
District Head's account
Similarly, Bello Dantsoho, Acting District Head of Ungwan Muazu, said: "Information reaching me has it that some people wanted to take the laws into their hands when a body was discovered on Satur-day night in Kabala West.
"They started destroying a mosque in the area. Another body was also found yesterday (Sunday), which caused this pandemonium and trying to make it a religious crisis, which is not the cause.
"No life was lost in today's (yesterday) unrest as far as we know, except for injuries, when some youths tried to take advantage of what happened."
He called on the youths and residents to remain calm and not to take the law into hands.
Kabala West's Head
Mohammed Lawal, the Village Head of Kabala West, claimed that a body discovered on Saturday night.
He said: "The body of a 20-year-old youth was discovered inside a Christian cemetery in Kabala West.
"Instead of the people to allow the security agencies to investigate, they went about destroying mosques, which aggravated the issue. This (yesterday) morning again, we woke up to discover a body allegedly killed last night."