By Anayo Okoli
UMUAHIA—AN Ebonyi Youth Leader and member of Ohanaeze Youth Council, Mazi Alex Okemiri, has called on political leaders in Ebonyi State to start shopping for the replacement of Governor Dave Umahi in the 2019 election, describing the governor's two years so far as a total failure and disservice to the people of Ebonyi.
Okemiri, in a statement, issued in Umuahia, said Umahi has been grandstanding to the detriment of good government to the masses of Ebonyi State.
According to him, Ebonyi people could not afford to continue with the leadership style of the governor, who, he said, has turned governance of the state to "family and clan affair" and urged the political stakeholders of the state to "kick-start the process of shopping for a candidate that will replace him in 2019."
Describing Umahi's two years so far as "a total failure and disservice to the good people of Ebonyi State," the youth activist accused the governor of "initiating cosmetic and white elephant projects to the detriment of the welfare of the masses.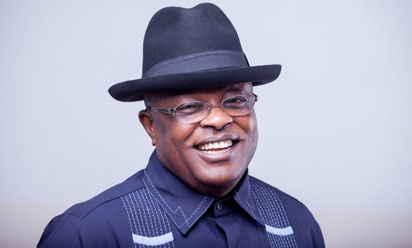 "Ebonyi State government has more value and regard for traffic lights than for the citizens.The government uses over N60 million to service traffic lights monthly but spends nothing to empower the people," Okemiri alleged.
According to him, instead of helping businesses to grow, the government is busy killing them with multiple taxation, and running government as a family business.
He said: "Businesses are being stifled in Ebonyi. They are shutting down in droves. Multiple taxation has become the bane of doing business in Ebonyi. No wonder, investors are now running away.
"Even petty traders are not left out. A woman with N500 worth of vegetable is being forced to cough out N150, leaving her with a balance of N350 to take care of her family. This is unacceptable."
"As it stands today in Ebonyi, it has become the more you look, nothing you see. There is no important project going on in our dear State, yet some people go around making questionable endorsements.
"Poverty indices in Ebonyi is over 80 percent and this has made our people to become laughing stock across the country. A visit to any state across the country will show that our people have nothing doing
except to work as okada riders, street hawking, serving as maids, and other menial jobs to eke out a living.
"To this end, we are saying that enough is enough; this government should get ready to vacate in 2019. There will be vacancy in Ebonyi government House in 2019.
"We call on the various stakeholders, including religious leaders, political and traditional leaders to commence a meticulous search for Umahi's replacement in 2019.
"Effort should be made to get a candidate who will carry everybody along and not one who will turn the State into family business. There is no better way to describe a government without direction", the
statement said.