•Clans release 7 doves to mark acceptance of King Charles Dumaro Owaa III, the Obanaoban of Ogbia Kingdom
BAYELSA…Jerusalem of Ijawland
By Samuel Oyadongha
OGBIA—WITHOUT a king for 25 years, indigenes of Ogbia Kingdom, Bayelsa State, led by former President Goodluck Jonathan, last Saturday, put aside their political differences and converged on Ogbia town for the coronation of their new monarch, King Charles Dumaro Owaba, III, the Obanoban of Ogbia Kingdom.
NDV findings revealed that the revered stool of Obanoban is the power behind the unity of Ogbia people, which transcends religion and gender. The new Obanoban of Ogbia Kingdom was unanimously elected through a peaceful, free and fair process in September, 2016 following the withdrawal of other two candidates. Highpoint of the ceremony was the symbolic release of seven doves by the four clans of the Ogbia Kingdom, including traditional dances and the Omungu Aru war canoe regatta.
Grippingly, the jubilant people of Ogbia on whose land crude oil was first struck in commercial quantities in 1956 at Otabagi in the then Oloibiri district and which area also produced the first minority President in the history of Nigeria in the person of Dr. Jonathan had to wait for 25 years to witness the coronation of the new Obanoban.
Nature agrees with man: The elements were in unison with the mood of the people as the sun shone brightly to soak up the early morning showers of blessing ahead of the epoch making event at the Ogbia Model School, in which the enthralling and rich cultural display of the Ogbia- speaking people of the Ijaw nation held many visitors spellbound.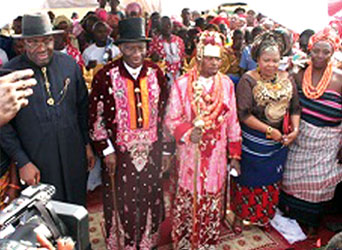 Jonathan, Dickson's arrival enliven event: The arrival of the former President Jonathan accompanied by the Governor of the state, Hon Seriake Dickson, his deputy, Rear Admiral Gboribiogha John Jonah (retd.) and other top government functionaries, all clad in Ijaw traditional attire, at the arena, electrified the carnival -like atmosphere where the different troupes thrilled the audience with scintillating dance steps.
Scintillating dance
The former President, Dr. Goodluck Jonathan, who spoke at the event called on the people of Ogbia Kingdom to rally round their new monarch, King Charles Dumaro Owaba, the 111 to enable him succeed in the task of promoting peace, stability and development.
Speaking shortly after the presentation of the staff of office to the Obanoban of Ogbia Kingdom, Governor Seriake Dickson assured him of his administration's commitment to work with the people of the area towards ensuring sustainable development.
A monarch's pledge: In his acceptance speech, the 67-year old King Charles Dumaro Owaba expressed appreciation to God, ascribing his elevation to divine providence. The Obanoban assured that he would collaborate with other traditional rulers in the state to sustain the prevailing peace and stability.