Scores of students of the University of Lagos, staged a peaceful protest to the Lagos State House of Assembly over alleged illegal detention and rustication of their colleagues by the Police and university authorities.
The protesters, who chanted different solidarity songs, carried placards with various inscriptions some of which read: "Nigerian students say no to repression", "Free our students today",   "Nigerian students say no to rustication of students leaders in Unilag" and "Free Unilag 13, free rusticated Unilag 13" among others.
One of the leaders of the protesters, Mr Juwon Sanya-Olu, alleged that the student leaders were beaten, arrested and remanded for protesting against the school management.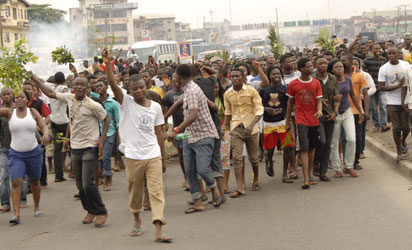 Sanya-Olu, Secretary of Save Unilag Coalition called on Gov. Akinwunmi Ambode to intervene and ensure the reinstatement of those rusticated.
According to him, "Two of us were rusticated for no just cause while some students were arrested and detained for protesting against injustice. Why should innocent Nigerians who were demanding the rights of students be detained", he asked.
Also speaking, Mr Moses Adewale, Chairman, National Association of Nigerian Students, NANS, Lagos State Chapter traced the history of the crisis in the university to April 6, 2016.
According to him, it started when the students of the school, led by the students' union leaders, staged a peaceful protest to decry alleged management's nonchalant attitude towards living conditions on campus.
"We want the welfare issues ranging from academic welfare, hostel welfare, scarcity, high cost of commodities   on campus addressed. The students, overtime, have been forced to endure these poor conditions including epileptic power supply".
Addressing the protesters, Mr Seye Oladejo, the Commissioner for Special Duties and Intergovernmental Relation said: "We sympathize with you on whatever that led to the remand of your colleagues. We need relevant information on what led to the arrest and the list of the affected students for us to address it.