Lagos—NATIONAL Leader of the All Progressives Congress, APC and former Governor of Lagos State, Asiwaju Bola Ahmed Tinubu, has dismissed as false a newspaper (not Vanguard) report that he had instigated attacks against the Peoples Democratic Party, PDP Senate caucus.
In a statement by Mr Tunde Rahman of his Media Office, Tinubu also said there is no truth in a report that the PDP Senate caucus accused him of conspiring with the Economic and Financial Crimes Commission, EFCC, to destroy the Senate.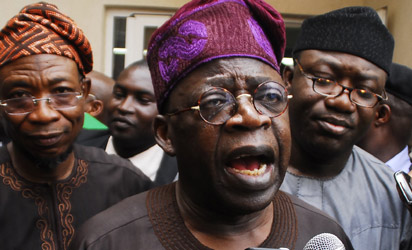 The statement read in part: The newspaper claimed in the report "PDP Caucus Accuses Tinubu, EFCC of conspiracy to destroy senate "that Asiwaju Bola Tinubu, in concert with the EFCC, has instigated media attacks against the PDP Senate caucus. The story is such an outright fabrication that it claims the PDP Senators held a special meeting to discuss Asiwaju Tinubu.
"However, PDP Senators claim no such meeting was ever held and that they hold no special animus toward Asiwaju Tinubu."
''We are usually not in the position of agreement with PDP members. But on this rare occasion, we have no contention with them. Asiwaju Tinubu is a former Senator. He has a special affection for the Senate as an institution. It is not within him to belittle the institution or members of that institution who happen to be in the opposing political party.
''Moreover, his brand of politics does not lend itself to engaging in wanton character and personal attacks. There is significant policy difference between our progressive school of thought and the often reactionary ideas of the PDP. There are more than enough serious issues over which to grapple the PDP." Asiwaju TInubu's politics are driven by his policy views. He will gladly wrestle against the PDP on substantive political differences. But engage in personal attacks, rumor-mongering and mudslinging, never. We leave that for others. The gutter is no place to build a better nation. We seek higher ground.
So that there is no confusion on the core issue here, we categorically deny any hand in any negative personal report on any Senator.