By Muoka Lazarus
As we celebrate the commemoration of the death, burial and resurrection of our Lord Jesus Christ which is what Easter stands for, it is necessary to draw our attention to the significant of the occasion, our expectation and then what our attitude should be.
We should understand that at Easter we celebrate the sacrifice of our Lord Jesus Christ on the Cross of Cavalry for our sins which brought about the destruction that has been earmarked for us as a result of the sin of Adam and Eve. Christ took our place of sin, sickness, poverty, worry, depression, confusion so that we could partake in His place of righteousness, perfect health, wealth, joy and victory.
The victory of Jesus over death is the victory of Christians over sin and Satan and this victory brought about the restoration of the covenant of peace and blessing which God had with us and which was made blemished after the fall of Adam. At Easter we reflect on the finished work of redemption – vis-à-vis His death, burial and resurrection, which bestowed upon us salvation, mercy, dominion, honour and glory.
Jn 10: 10b says, "I am come that they might have life, and that they might have it more abundantly"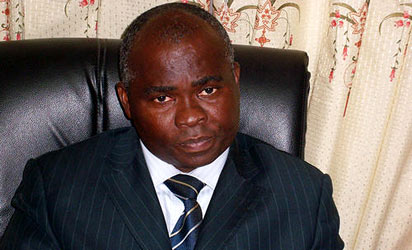 When God saw the hopelessness of the people He created and how they were wallowing in darkness suffering from one problem to another as a result of the sin of Adam, He sent His only Son Jesus Christ to come as a Redeemer so that they might have life and not just a mere living, but abundant of it including all those things which are needful to make life happy which was lost in Adam. So, by the coming of our Lord Jesus Christ, a thorough heavenly portal is opened for humanity, and thus we have access to all heavenly blessings which include mercy, grace, salvation, Holy Ghost baptism, good health, freedom, peace, promotion, joy unspeakable, dominion and above all a privilege for a glorious immortality.
But many Children of God lack the knowledge of what the grace and salvation of God has brought to mankind thus they are suffering and dying in their ignorant. And that is why hopelessness has pervaded the life of many Christians. Many have cut themselves off from the provisions availed by His coming and thus became destroyed.
As we commemorate His resurrection at Easter, we are by extension reviving the covenant of peace and blessing which He brought about with salvation. And if this covenant is to be restored in your life comes this Easter, you must be prepared to receive Him afresh in your life.
Everybody must be in attention to receive the renewal of God's covenant of peace and blessings this Easter. I strongly believe if you earnestly prepared, you will experience a new life of transformation. A life made new where old sinful life- drunken, womanizing, full of all sorts of wickedness shall be no more. You then become Spirit filled and thus work according to the dictate of the Holy Spirit. However, this attribute will be manifested if only you repent.  God is pure and holy and thus cannot establish a covenant with an unholy person. If you refuse to repent from your sin, Easter will come and go buttrouble will not depart from you.
Ps 1:5 says, "Therefore the ungodly shall not stand in the judgment, nor sinners in the congregation of the righteous".
If we want the peace and blessing of God to be restored in our lives, we must be holy and conformed to His nature. So, for us to be among those He is coming to re-establish His covenant of peace and blessing comes this weekend, we must  be holy. If you desire to be delivered from the challenges of life occasion by your sin, you must endeavour to clean yourself from all pollution both of the heart and body. If your case is disappointment and lack of promotion, and you want to experience favour, you must prepare to be holy in order to be allowed in His presence.
If you are barren, and you wish to be fruitful, you must be holy. And when you conform to His nature of holiness, I will assure you that miracle is children bread. The will of God in the Old as well as the New Testament is not locked up in the repository of an unknown tongue, but communicated plainly and openly to the people. He said, 'Ye shall be holy, for I am holy'. There is no ambiguity in God's requirement. The people of God must be separated from the world, for they are required to be holy, for His character, His laws, and services are holy.
1Thes. 4: 7 says, "For God hath not called us unto uncleanness, but unto holiness"
When He called us to be His followers, it was not that we should live the lives of uncleanness, but of holiness. We should, therefore, fulfil the purposes for which we are called into His kingdom. The Christian calling demands purity of life both in the physical and spiritual. Holiness is the sure foundation on which covenants are established and eternal life built upon.
Exodus 19: 10-11 says, "And the LORD said unto Moses, Go unto the people, and sanctify them to day and to morrow, and let them wash their clothes, 11 And be ready against the third day: for the third day the LORD will come down in the sight of all the people upon mount Sinai"
In the days of Moses, whenever God proposed to commune with children of Israel, He would direct Moses to sanctify them to conform to His nature of holiness before He met with them. This is because without holiness no eye shall see the Lord. Moses accordingly would cause them to cleanse and prepare themselves.  The outward washing of clothes commanded was a sign of the inward cleansing of the heart from sin, which God required of every one. During those Bible days, two things particularly were prescribed as instances of their preparation. First, in cleansing of themselves from all sinful pollutions, they must wash their clothes.  It was not that God regards their clothes, but while they were washing their clothes, He would have them think of washing their souls by repentance.  As it becomes of us to appear in clean clothes when we wait upon great men; so clean hearts are required when preparing for the renewal of the covenant we had with God. Secondly, in devoting themselves entirely to spiritual exercises like fasting, prayers and abstinence from lawful enjoyments during the period, we are expected to conduct ourselves same way as a matter of preparation. As the Lord visited His people in the Bible days as He promised and blessed them, if we do what they did, we are sure we shall be blessed.
Happy Easter!