LAGOS residents Saturday gave the Queens Baton a rousing welcome as the CGA officials arrived at the International wing of Murtala Muhammed Airport.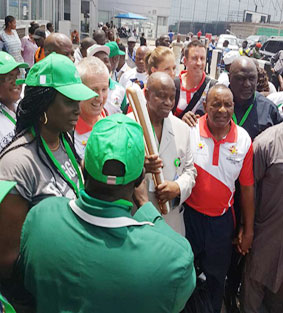 Dignitaries including NOC President, Engr Habu Gumel, Chairman of the Queens Baton Main Organising Committee Mrs Hauwa Kulu-Akinyemi, Hon Tunde Popoola, Chief Solomon Ogba( 1st Vice President of NOC and AFN President), President General of Supporters Club, Dr Rafiu Ladipo, Nneka Ikem-Anibeze(SA to Sports Minister), Emma Nweri, Peter Nelson and hordes of Journalists and Camera men were present to welcome the Commonwealth Games Association members led by Gideon Sam.
Others who arrived with the Baton are Adam Best, Patricia Quayle Jeremy Sutton-Hibbert and Colin Briggs.
The Supporters Club with their band turned the Airport to a carnival of sorts as workers and passengers joined in the sweet melody of the music.
Gideon Sam said that the arrival of the Baton starts the countdown to the Games in Gold Coast, Australia. He noted that Nigeria was a powerhouse in the Games adding that the enthusiasm shown here demonstrates Nigeria's willingness to win at the Games.
Once the Baton was handed over to Engr Gumel, the crowd cheered. Gumel said that Nigeria was happy to receive the Queens Baton and promised that Team Nigeria would do Nigerians proud in Australia.
Hauwa Kulu-Akinyemi was excited to lift the Queens Batons and noted that the Batonbearers will inspire others with their passion and commitment to promote the Commonwealth Games. The arrival of the Queens Baton starts the countdown to the Games opening ceremony on April 4 next year in Australia.