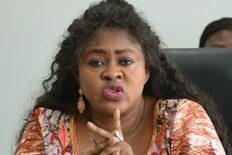 Senator Stella Oduah
Senator Stella Adaeze Oduah, former Minister of Aviation, currently represents Anambra North on the platform of the Peoples Democratic Party, PDP.  She is the Deputy Chairman, Senate Committees on Police Affairs and Women Affairs. In this interview, Senator Oduah spoke on issues affecting the Senate among others. Excerpts:

HOW would you describe the affairs of the eighth Senate especially given the fact that you were formerly in the exectuive arm of government?
It is very different in so many ways. Like you said one is executive arm and the other is legislative arm. At the legislative arm of course, you are closer to the people and it is a different constituency in terms of relationship and obligation. As an executive, you have a boss, who is the President and that is where your direction and directives come from. As a legislator, you have a boss or rather bosses and your bosses are your constituents so that majorly is the difference.
Assessing the eighth Senate: I think it has been well to the extent that from day one, I have always said that for the first time, we have several young people at the leadership of the Senate and so they will bring in something different.
Main stream  of the Senate
They will intellectualize the Senate and have a focus like the youth agenda, the youth priority and a total change will bring the main stream of the Senate and that is what they have managed to accomplish. Yes, it was rough because whenever you have a paradigm shift, it takes time for people to get used to that; but change is constant and as human beings, we get used to change. But the thing is how impactful have they been and how focused have they been? I think we have done very well in putting the Senate together, in ensuring that we focus on why we are here which is to ensure that we make laws that would impact positively on the lives of Nigerians.
Before now Anambra used to be a PDP state and then APGA took over and APC is also claiming that in the next election, it will take over the state. Where is the place of PDP in your state as a stakeholder?
Anambra is still a PDP state and will continue to be a PDP state for a very long time because fundamentally Anambrians have enjoyed the fruit of democracy through PDP all these years and so you cannot wish PDP away. Most APC people are PDP offshoots, again you cannot be in a party for two months and having been in a party for 16years or so, you suddenly disassociate yourself from the principles of that party, but that is a different matter all together.
But to answer your question, Anambra is a republican state, it is a democratic state, it is a liberal state, it is a state where freedom reigns, it is a state where your capacity, your capability determines what you do and become, so that is what Anambrians are known for. So for years to come, PDP will continue to be a party to reckon with in Anambra state.
PDP at the national level has been going through some political troubles with the coming on board of Senator Modu Sheriff as national chairman. What is the future of the PDP and what is the way forward?
Even in homes between husband and wife, among brothers and sisters, you agree to disagree, you fight and at the end of the day peace will reign because you have one fundamental and that fundamental is that together we stand strong and together in spite of our adversity, in spite of our differences, we know that we stand for one thing.
We have a platform that can give us a window to fulfill our inspirations and aspirations. We have a platform which recognises that where you come from is just an accident of birth, where you go to is your sheer tenacity, it is your will and that is what PDP stands for. PDP is just a wonderful platform that is determined to break status quo and the glass ceilings; so no other party has that. So as brothers and sisters, we are going to fight, we are going to shout, we are going to probably box ourselves but at the end of the day it is one PDP, we will come together.
As part of resolving the crisis, there was an attempt by former President Goodluck Jonathan to reconcile the warring factions, but Senator Modu Sherif stormed out of the meeting. As a stakeholder, what is the next line of action, what is the fate of PDP?
We have a leader and Dr. Goodluck Jonathan is the leader of PDP, he just left as a President. He is going to call his children back again and the dialogue will continue and at the end of the dialogue like I said peace will reign; that which is good for all of us will be what all of us will adopt.
You were in the executive and now in the legislative arm, are you comfortable with disrespect for your resolutions by the executive and what do you think should be the way forward?
I think it is unacceptable. During my time, there was mutual respect and I think Mr. President is a good man but as President just as Goodluck you cannot be everywhere. So you have the apostles who are supposed to represent you and those people need to do it properly. Part of the things that they should do is to know that respect begets respect and that the legislative arm is an equal arm of government and deserves full compliment of that and must be respected.
So I want to put it that possibly is because they don't understand, possibly because they haven't come to terms that the constitution gave equal stand to all the three arms of government. There is no other two way about it, what governs us is our constitution and our constitution is very clear on the three arms of government; and so equal respect must be demanded which is what the Senate is saying that you have to respect us because respect has to be mutual.
What is your take on the present economy. Are we getting it right and what must be done if we are not getting it right?
You and I live in this country, we go to the market and send our children to schools and we have relations that also live within the country; I pray that things would get better for all ourselves.
Safety of  passengers
The Senate has been working on bills and policies that will give us a breather in terms of our economy to ensure that Nigerians have better lives, to ensure that the budgets as they come not only budgets, but every policy would be Nigeria friendly, would be impactful and make our lives livable and really make it better, otherwise we cannot go back to our constituencies.
As a former minister of aviation, was the temporary closure for repair of the Nnamdi Azikiwe International airport Abuja justifiable?
I didn't take the decision, so I don't have all the facts as to why the decision was taken. I believe in safety in the aviation sector as we know that it cannot be compromised. If the decision was taken because of our safety then kudos, I think it was a very good thing. Anything that is done because of safety of passengers for me is welcome and must be supported. So for me I want to believe that this was done for safety reasons, I wish them luck; I wish all of us luck, we need to be safety driven.
Do you think we need a national carrier?
Yes, definitely we need it, it is good for us; not that it is a good flag for us to fly but safety wise, it is very good because aviation is a catalyst for our socio-economic development, therefore we must prioritize aviation particularly infrastructure in aviation and the assets in aviation and the crucial one being the aircraft that you and I board every other day. Air travel in Nigeria is quicker, it gets you to where you are going on time, it is safer, it gets you safely to where you are going and economic wise, it is very impactful.
How would you describe your relationship with your constituents, what have you done so far for them?
My focus for my constituents has been to make a difference, to focus on the legislative platform, laws and policies that would impact positively on their lives.
Legislative  platform
During my campaign, I took it very seriously in ensuring that I visited all the communities. I have about 59 communities in my zone, I visited every single one of them, for a similar purpose, to understand what their needs are, to understand why they have remained in such abject poverty and why development has so eluded them and why it is that we have youths, that demography is just so powerful, but yet unutilized and idle    and very frightening too, despite the fact that they constitute almost 75 per cent of the total population and it keeps on increasing in double digit and yet the impacts in developing them into useful adults is very minimal.
And so my focus at the end of the election and when I won the election was that I will focus in ensuring that I mainstream the laws that I participate in, in mainstreaming the laws that will enhance their lives.
Can you give an insight into some of the bills and motions that that you have presented which will help Nigeria grow?
I am a person that is majorly driven by passion. All my motions, I am very passionate about them. For instance, the one on NYSC that for me is very crucial and why is it crucial is because we did NYSC, it is almost a play ground, you go and you come out, you have served your country, but at the end and everyday it gets worse. And so you have graduates who have gone through NYSC and yet they are unemployable and also the white collar jobs are decreasing by the day and I think that we should make NYSC very useful to these youths.
I am also passionate on women bills. We have had the one done by Senator Biodun Olujimi, and we are all co-sponsors. As women and as President of West African Women Legislators, I think that if we do not create a robust law and policy that will not just make women participants in development, in elective offices, in appointive offices, then we have lost the essence, we have lost a whole demography and a whole gender. We need to mainstream women activities, women programmes to the extent that women should be part of our developmental programmes, they should not be pigeon holed to 30%, 40%, no, it is the capacity that we should look out for.
From what you have said, it does appear that you are not comfortable with only seven women in the Senate and what must be done to increase the number?
I think it is unfair and we should say it loud that people should hear. In a population where you are saying that you have 70% women and then when it comes to elective position, you say 30%, why change the number. Are you saying that women lack the capacity, are you saying that women are not just good enough to do politics? I think that is a very unfair statement if that is what Nigerian men believe in.