The Executive committee of the Nigeria Olympic Committee, NOC, has applauded Sports Minister, Barrister Solomon Dalung for his ''love, understanding and demonstration of Olympic Values'' after agreeing to amend the guidelines for the 2017 Federation election guidelines.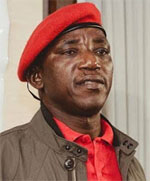 A dark cloud of uncertainty had hovered over Nigerian sports after the Sports Ministry released Guidelines to the Federation Elections which the NOC said was at variance with Olympic Charter as well as with the International Federations (IFs).
Two contentious provisions: "the issue of eligibility as contained in the guidelines that did not conform with the Olympic Charter, that seek to bar some Nigerians in the international federations from seeking office were expunged after the Minister met with NOC bigwigs and Federation Presidents on Friday.
NOC President and member of International Olympic Committee, Engr Habu Gumel said that he and his members were lost in admiration of Sports Minister's great courage and moral values by dropping the contentious provisions that were not in line with the IOC and IFs statutes.
''All the stakeholders applaud the Sports Minister for his handling of the disagreement and resolving it amicably. This shows that he is a true democrat, a lawyer who understands the implications of disobeying rules and he has demonstrated his undying love for Nigerian sports'', Gumel said.
After mutually agreeing to remove the offending provisions and allowing the Federations constitutions to prevail, Sports Minister Dalung said, ''We decided to make amendments to some of the guidelines after wide consultations with the stakeholders in the industry to conform with the IOC Charter and International best practices''.
The Minister also said that ''we also resolved that the NOC should be actively involved in driving the process and look at areas that can be adjusted in the interest of democracy''.
Those who met with the Sports Minister to review the offending provisions include; NOC President, Engr Habu Gumel, second VP, Chief Fatai Williams(Swimming), Scribe Tunde Popoola, Edward Fom(Rugby), Daniel Igali(Wrestling), Dauda Yussuf(Handball), Dr Lanre Glover (Triathlon) and George Ashiru (Taekwondo).