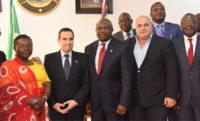 Lagos State Governor, Mr. Akinwunmi Ambode (middle); Ambassador of Israel to Nigeria, Mr. Guy Feldman (2nd left); Senior Economic Officer, Embassy of Israel, Mrs. Florence Osuji (left); Managing Director/CEO, EMI System Limited, Mr. Mesika Eyal (2nd right) and Special Adviser, Office of Overseas Affairs & Investment (Lagos Global), Prof. Ademola Abass (right) during the Ambassador's courtesy visit to the Governor at the Lagos House, Ikeja, on Monday, April 3, 2017.
By Providence Emmanuel
NIGERIA and Israeli govern  ments are proposing alternative means of raising bilateral trade volume which is currently low to  boost relationship between the two countries.
Hinting on this during a visit to Bank of Industry last week, Israeli Ambassador to Nigeria, Mr. Guy Feldman, said that Israel has evolved new measures to boost its trade with Nigeria, adding that it is high time Israel raised the volume of trade between both countries.
He said Israel would assist Nigeria in the areas of agriculture, technology, renewable energy, communication, intelligence, security and water management.
Earlier, acting Managing Director, BoI, Mr. Waheed Olagunju, said it was time Nigeria and Israel took full advantage of their long-standing cordial relationship, especially by laying greater emphasis on opportunities that would benefit both countries.
He said that improved business relations between the countries would broaden markets and enhance competitiveness, adding that Nigeria would key into Israel's agro processing expertise to increase food production and reduce post-harvest losses.
He stated: "We know that Israel is one of the huge tech-savvy countries that you have across the world and obviously for a city that is growing and still counting, we believe strongly that this visit is more instructive for us and we would like to take advantage of the technological advancement that we see across the world being done by mostly Israelis and also things that have to do with agricultural expertise."