It's a general perception that celebrities marry late as it's might affect their career. But Nollywood hunk, Nosa Rex proved it otherwise when he walked down the aisle  about two years ago with the love of his life, Deborah,  at a much younger age.
The handsome dude believes that getting married at a young age is no big deal even though he followed the footsteps of his father.
Nosa revealed that apart from being influenced by his father, he married early in order not to be distracted by his female admirers.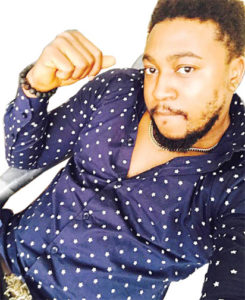 " Before I joined Nollywood",  he began, "I have always had this idea of settling down on time. The thought came to my mind because of the relationship I have with my father. If you see me walking hand in hand with father, you will probably believe he's my elder brother."
"He gave birth to me at the age of 24. I like my relationship with him and I have always wanted that kind of relationship to exist between my kids and I. This is because I know what I'm benefitting from it," the Edo State-born actor enthused.
Nosa who started acting way back in 2010, after he graduated from the Ambrose Ali University, Ekpoma, as a Mechanical Engineer , married his long time girlfriend, Deborah about two years ago.  Their union has been blessed with a beautiful daughter and the handsome actor is better off for it.  He's telling whoever cares to listen that getting married early is not a bad idea.