…429,000 dead, more lives at risk as cost of drugs, insecticide, net soars
BY CHIOMA OBINNA
Every April 25th,  the world beams its searchlight  on global efforts  to control malaria.  The day highlights the need for continued investment and sustained political commitment for malaria prevention and control. This year's theme is "End Malaria For Good"
According to the World Malaria Report 2016, in 2015, there were 212 million new cases of malaria and 429,000 deaths. Also, not less than 51 million Nigerians, equivalent to 30 percent of the population, tested positive to the malaria parasite in 2015.
Unfortunately, while other countries of the world  are  fighting to keep the momentum at ensuring that  most vulnerable – especially young children and pregnant women-have access to preventive care,  the present economic situation in Nigeria's  making it harder for these two  groups to have access to the life-saving prevention, diagnosis and treatment they so urgently need.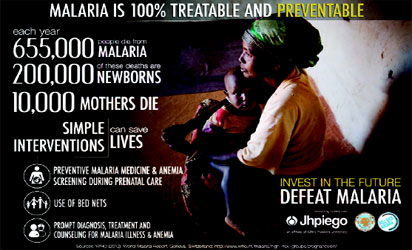 It is no longer news that Nigerians are in dire straits as far as access to healthcare services is concerned.  The question  is, as the world is singing a new song of ending the burden, will Nigeria be among the countries  that will end one of the oldest and deadliest diseases in human history?   Sunday Vanguard examines the situation.
According to the World Health Organisation, WHO, malaria is a life-threatening disease caused by parasites that are transmitted to people through the bites of infected female Anopheles mosquitoes. Usually found in tropical and subtropical climates where the parasites that cause it live, one thing about the disease is that it can be transferred from an infected pregnant mother to her baby at birth.   Unfortunately, it remains both a major cause and a consequence of global poverty and inequity. Its burden is greatest in developing countries like Nigeria and among the poorest members of the society.    In Africa, 30 million women living in malaria-endemic areas become pregnant each year. For these women, malaria is a threat both to themselves and to their babies, with up to 200 000 newborn deaths each year as a result of malaria in pregnancy.
Today, in Nigeria, the story of malaria is a mixture of misery and mystery. Every narration is a lamentation of woe, a recitation of grave repercussions and a distress call to action.
According to the US Ambassador to Nigeria, Mr James Entwistle, an estimated 100 million malaria cases and about 300,000 deaths each year make Nigeria the country with the highest number of malaria casualties worldwide.
To Entwistle, despite so many gains in malaria prevention and treatment, the widespread prevalence of counterfeit, substandard medicines is contributing to the alarmingly high number of malaria deaths and costs of health care in Nigeria.
According to the statistics  from the Nigerian National Malaria Strategic Plan 2014-2020, malaria is responsible for 60 percent of outpatient visits to health facilities, 30 percent of childhood deaths, 25 percent of deaths in children under one year, and 11 percent of maternal deaths.
The statistics  showed that  nine in 10 persons are at risk of malaria in Nigeria which accounts for 25 percent of malaria cases in Africa.
Unfortunately, currently, various interventions, including the WHO-recommended malaria treatment, artemisinin-based combination therapies (ACTs), are barely ameliorating the situation.
The situation may worsen as many Nigerians can no longer afford these interventions apparently due to the current economic recession biting harder in the country.
Millions of people are reeling under the onslaught of the economic downturn even as cost of healthcare has shot up above average means, forcing many to even shun preventive health. Findings by Sunday Vanguard showed that in hospitals across the country, the cost of healthcare services, particularly  malaria, have tripled in the last one year.  These are indeed trying times for a country  racing to end malaria. The increase in cost is all-encompassing. From needles and syringes, antimalarials, injections, insecticide treated nets, ITNs, insecticides, and so on, everything has increased by a margin of 300 percent, leaving patients with increase in complicated cases, self- medication  and the use of herbal medicines.
Critical healthcare watchers are worried by this development as Nigeria joins the rest of the world to mark this year's World Malaria Day.  They are of the view that even as the Federal Government battles to end malaria, it must contend with the challenge of ensuring that vulnerable groups like pregnant women and children have access to drugs at affordable prices.
There are also fears that the astronomical increase in the prices of these drugs may double the level of fake and substandard drugs already circulating in the system.   The situation will no doubt worsen the country's health indices as well as swell-up  maternal mortality rate and  newborn deaths.
Said the Medical Director, Life Fountain Hospital, Anthony, Lagos, Dr Agboola, "The current recession has affected healthcare delivery in so many ways because it has greatly affected the purchasing power of the people and, because they don't have money, they would shun qualitative healthcare."
Patient's account
"I almost died of malaria two weeks ago," Gbenga Adebanjo, resident in Lagos, recounted.   "I was in my shop that afternoon when I started feeling cold, and this has been on for a very long time. I could not sell anything due to that bout of malaria."  A food seller,  Adebanjo, who had  been battling malaria for  weeks, occasionally wiped  his face almost covered with sweat with a small towel. He  told Sunday Vanguard: "The cost of malaria drugs has gone up. I have had malaria for two weeks. The last time I visited a pharmacy to buy antimalarial drugs; I was shocked. A drug I used to buy for N300 now costs N850. Some months ago, whenever I had malaria, I could treat it within three days but now I cannot."
But to Mrs Chioma Ebuka, a mother of four, treating malaria has become more expensive.  "I can no longer buy drugs and even at health centres, they now collect money before they even give you  treated nets."
Asked if she had  done test before treatment, she said: "Who is talking about test now. People are only concerned about treatment and the drugs are unbelievably costly.  Many Nigerians cannot afford quality treatment with the current situation in the country."
A nurse in one of the private hospitals in Lagos, who spoke to Sunday Vanguard anonynously, said a year ago, malaria parasite and typhoid  widal test cost N1,500 but now it costs N4,300.
According to her, to treat malaria for three days in  hospitals now, you require  about  N10, 000.  "Before now, malaria test  cost  as low as N1, 500 but today it  is N4, 300.  If the patient suspects infection, he or she will be required to  do another test which will cost about N2, 500.  Then the treatment  will cost over N10, 000.   It is really not our fault but the exchange rate has affected these things.  Unfortunately, we see more cases of malaria in hospital.  Sometimes we see same patients coming back for malaria twice  a month," she said.
Cost of drugs such as antimalarial drugs in private hospitals has hit the roof.  The price of Artemisinin-based Combination Therapies (ACTs) recommended by WHO as first line for malaria treatment has tripled.  The least of them now goes for as high as N700 while the popular ones go for about N1, 050.  For instance, popular brands like Lonart which in the past cost N700 is now N1200 -N1, 400 depending on the area of purchase.  Some insecticides which sold for N300  now goes for N700 while the ones sold for N500 in the past  sell for  between N900 and N1000.
Confirming the situation, the Chairman, Lagos Branch of the Association of Community Pharmacists, ACPN, Biola Paul-Ozieh, said the persistence of the problem may endanger the health of Nigerians and that the only solution is for the Federal Government to activate the Pharmaceutical Intervention Fund, PIF, to boost local production of medicines.
According to Paul-Ozieh, the high foreign exchange rate and the consequent high cost of purchase and importation of medicines were discouraging importers as they were unable to get their funds back when they sell their products in the country. "The situation has also caused the increase in the  prices of products that have been imported. It is currently affecting the affordability of medicines by  ordinary Nigerians who pay-out-of-pocket for their healthcare. For us to have Universal Health Coverage, we must have affordable medicines."
Implication of high cost of drugs
Reacting to the situation in an interview with Sunday Vanguard, the Head of the Department of Molecular Entomology and Vector Control Research Laboratory /Public Health, Nigerian Institute of Medical Research, NIMR, Dr. Sam Awolola , said if nothing was done to arrest the situation, it could lead to epidemic of malaria in Nigeria because people were no longer protected.
Awolola, who posited that the authorities  should  prepare to tackle the epidemic of malaria, also called for the declaration of state of emergency in the malaria control programme.
He advised that the country should be more serious about malaria control programme and government should ensure that there is enough allocation of  resources for malaria control and the agencies involved well funded.
Awolola, also a Chief Research Fellow, said: "The implication is the fact that we need to prioritise what we do about malaria control if we are serious. Otherwise, what government needs to do is to declare a state of emergency for malaria control.  Government should constitute a very strong inter-ministerial committee to look at what we can do and  not what other people outside the country gave us to do".
Recommendations
Speaking on Nigeria's control programme, he said: "Our control programme has been donor –dependant.  Whatever they asked to do that is what we use the money to do.   At country level, we have not domesticated our plans.  We are not in control of what we are supposed to be doing but what the donor  wants us to do.  This is the problem not only in Nigeria but also  in other Africa countries. "Therefore, we need to domesticate our plan.  We need to prioritise malaria apart from what other people are bringing to the table. What exactly do we want to do?  How do we ensure that those things we think should be done locally are done?  And that can only be done through the inter-ministerial committee not the National Control Programme but we can still use the malaria advisory committee which we used to have.  They have teeth but they cannot bite because they are not empowered to do what they ought to do.   The earlier we come to the realisation that malaria is not just common malaria that children die from, the better for us."
He advised Nigerians to take malaria as a major public health problem that can be tackled only when we look  at the solution from the point of view that it is our problem and not an inflicted problem from anybody.  "This is because nobody will come to control it for us  if we don't do it  ourselves locally.  We should take responsibility for our control programme and not to leave it to  external people to come and detect for us,"he stated.