By Gbenga Olarinoye
Osogbo—Friends and relatives of the six suspects including a traditional ruler, Oba Ademola Ademiluyi, who were arrested in connection with the March 8, 2017 bloody crisis between the Hausa and their host Yoruba Community in Ile Ife, yesterday went home disappointed as the Osun State Police Command failed for the third time to arraign them before the State High Court Osogbo
The six suspects were expected in court to be arraigned before Justice Kudirat Akano but the police failed to bring them to court.
The security men who manned various posts as early as 7am suddenly disappeared by 9am when Justice Akano entered the court room to begin the day's proceedings.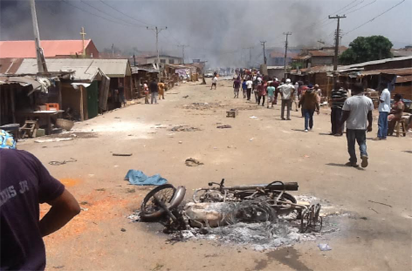 No reason was given for the failure of the police to bring the suspects to court but a source close to the court said that all grey areas to ensure proper arraignment of the suspects yesterday had been sorted out.
The Prosecuting Counsel from the Inspector General of Police, Barrister Simon Lough had explained on Wednesday why the suspects were not arraigned was the decision of the court.
However, the defence counsel, Barrister Muritala Agboola said the postponement was as a result of procedural error on the part of prosecution.
He said that the suspects were just served with the charge on Tuesday, adding that the consent of the court was not taken which prompted the initial delay.
His words: "Normally what they are supposed to do is to come by way of motion to try the suspects. But they didn't do that, they just served the suspects without getting the consent of the court first."
He added that "the consent of the court has been gotten, the suspects have been served properly" hoping they will be arraigned yesterday but failed again.
Neither the prosecuting counsel, Mr Lough nor the defense counsel, Mr Agboola was around the court premises yesterday.